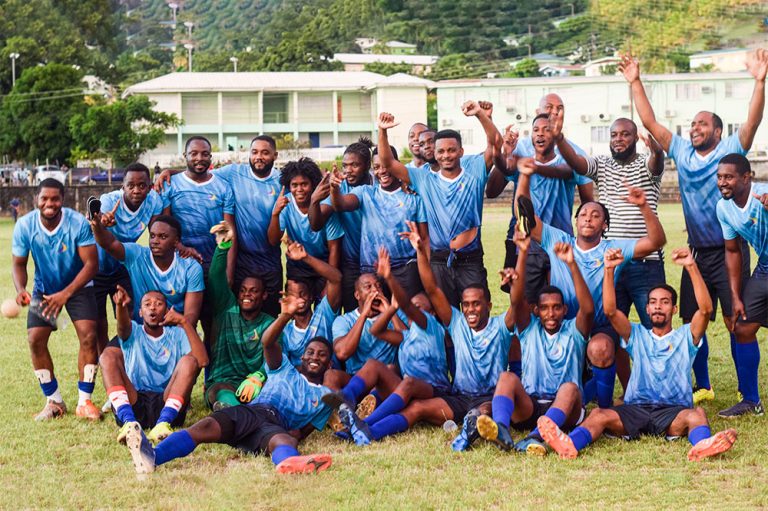 AIA touches down on Breakaway Masters Football title
Argyle International Airport (AIA) landed the 2022 Carib Beer/Wayne Crichton/ Breakaway Masters Firms' Football title last Saturday, September 3 at the Grammar School Playing Field.
Touching down in the final for the first time, AIA made their trip a memorable one, detaining the Royal St Vincent and the Grenadines Police (RSVG) Police 7-6 on penalties, after both outfits played to a 0-0 stalemate in regulation time.
The final culminated seven weeks of football at the venue and fittingly ended a shortened version of the league that returned after a one year absence because of the coronavirus pandemic.
Just prior to the Firms final, Volcanoes secured the Knock Out title, defeating Ministry of Education 2-0, to lay hands on the Cameron Sutherland trophy. Sutherland, the first president of the Breakaway Masters Organisation died earlier this year.
Apart from AIA and Volcanoes, the other winners included North Leeward Predators (Women's Division), Volcanoes ( Under-19 ) and System Three ( Under-17).
Osbert Richards of AIA won the MVP award in the Firms Division, with Meiya Wilson of the National Under-15 team, the recipient in the Women's Division, while Steven Pierre of System Three, did so in the Under-19 Division and Gabriel Culzac of Richmond Hill, in the Under-17 category.
Altica Benn was adjudged the best female player of the Firms Division.
Meanwhile, taking the Guy Lowe sponsored Most Goal awards were Tajere Thomas of CK Greaves in the Firms Division, Meiya Wilson in the Women's Division; Steven Pierre (Under-19), and there was a two- way tie in the Under-17 Division with the accolade shared jointly by Chad Corke and Jason Morgan.
In the goal keeping department, Amal Francis of AIA was the top shot stopper in the Firms Division; Riesa Wilson of the National Under-15 team, the Women's Division awardee; and Triston John of Volcanoes, the awardee among the Under-19s. Francis copped the Ali Munro trophy.
And, for the most disciplined accolade, Combined Banks was adjudged the winner in the Firms Division; System Three took the Under-19 award; and Avenues, the Under-17.
At last Saturday's closing ceremony, the Breakaway Masters Organisation also presented plaques to the National Sports Council; the St Vincent and the Grenadines Football Federation; Leo and Jenny;
Coreas Distribution Limited; and the Agricultural Input Warehouse for their contribution to the success of the competition over the years.