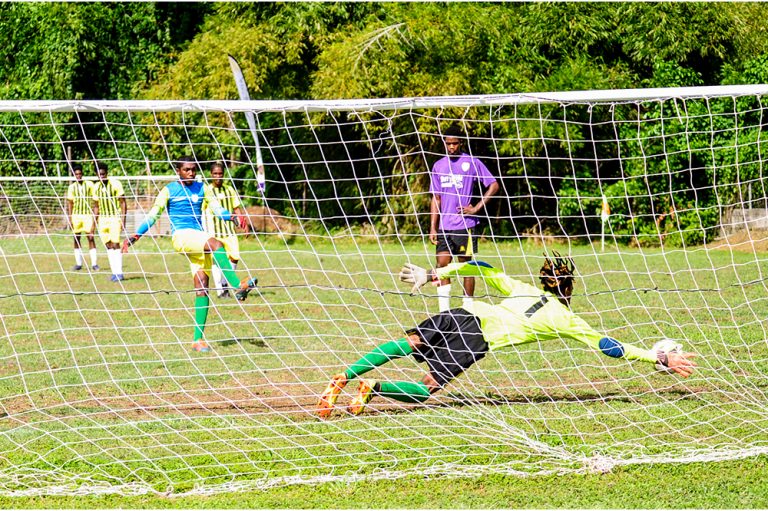 Defending champs still in as Final 4 was decided
THE FINAL FOUR were decided last Friday, November 5, 2021, at the SVGCC Villa campus grounds, as defending champions Jebelle Youth, Volcanoes FC Team Two, All Saints Medical Team Two, and Teachers Combined booked their places in the semifinals of the 2021 St Vincent and the Grenadines Community College Invitational Six-a-Side Football Championship.
Defending champions Jebelle Youth, had to pull out all stops to overcome System 3 Youth 6-5 in a thrilling unpredictable quarter-final battle. It was System 3 Youth who stormed out of the blocks and were leading 2-0 at one time, with goals from Ondre Foster and Chad Haynes.
Jebelle Youth however regained control by the 18th minute after a brace from Keyon Baptiste and a conversion by Trezine DaSouza.
Chad Haynes then scored his second to leave the teams tied at three goals apiece at the mid-way point.
The exchange of control continued; Trezine DaSouza completed his brace, while Ossique Billingy added another for Jebelle Youth.
Those goals were however cancelled out by Damien Williams who had his first for System 3 Youth and Chad Haynes who completed a pleasing hat-trick.
With the game tied at five goals all, a dagger from Jammie Keil stole all the spoils in favour of Jebelle Youth.
All Saints Medical School Team Two, continued as the only unbeaten team in the competition when they brushed aside the Division of Technical and Vocational Education 5-2. Abbah Micheal led the way for the Medical School, scoring a hat-trick, while Edison Odunze and Nonso Onyia netted a goal each.
The two goals for DTVE Year Two came from the boot of Clinton Payne.
Teachers Combined were impressive as they strolled
into the semifinals with a 7-0 triumph over the Central Leeward Secondary.
A brace each for Yahseem Dasent and Denico Jeffers, and a goal each from Junior Primus, Orlando Trimmingham, and Antonio Rodney thawed the efforts of the lads from Central Leeward.
Volcanoes FC Team 1 had no mercy for their Team 2 counterparts, handing them a 10-4 hammering en route to the final four. Three goals from Chrisheur Harry, a brace each from Delano Benjamin and Dillon Moore, and conversions each by Joel Williams, Randolph Richards, and Jlan McMaster made up Team One's tally.
Augustus Adams' hat-trick and a goal by Jansen James were not enough for Volcanoes FC Team Two to make any inroads into the score line.