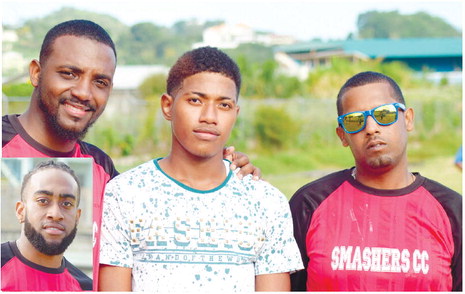 Smashers trio lead in bowling, batting statistics
SMASHERS, THE National Lotteries Authority First Division cricket champions, did not only secure the 2018 title, but also had the best individual batting and bowling statistics.
Smashers' pair of Darren Russell and Javid Harry, both finished on 23, to share the most wickets award with Sealroy Williams of losing finalist E & J Construction North Windward Youths.
Russell got his wickets at an average of 9.83 runs, Harry, at 7.52 and Williams, at 7.83 runs each.
Among Williams' tally of wickets, are four five-wicket hauls.
Also grasped by a Smashers player was the most runs award, as Raymando Rouse forged ahead of the other contenders, as he scored 76 not out in last Sunday's final at the Sion Hill Playing Field.
Rouse finished on 208 runs, edging out Sealroy Williams of North Windward Youths, who compiled 205 and Kurtney Springer of Smashers, 204 runs.
TIED BOWLING trio from left: Javid Harry (Smashers), Sealroy Williams of North Windward Youths and Darren Russell (Smashers) Inset: Top batsman Raymando Rouse of Smashers