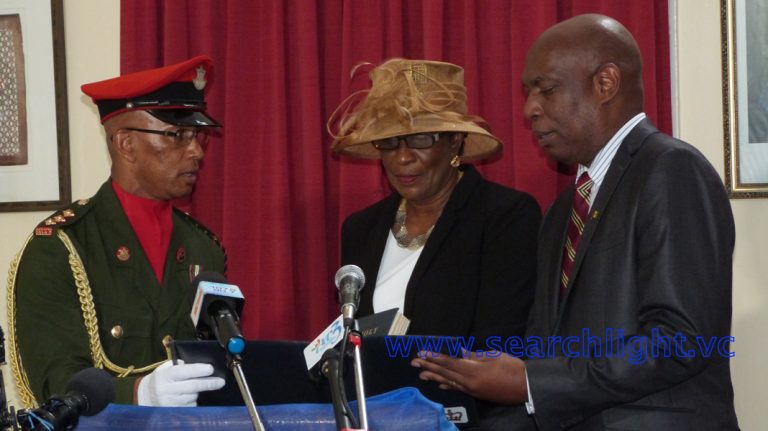 Breaking News
August 1, 2019
SVG's First Female Head of State Sworn In
Her Excellency Susan Dougan née Ryan is now the first female Governor General of St Vincent and the Grenadines (SVG), after an official installation ceremony Thursday morning at Government House.
Dougan, who has been a public servant for decades, has already taken on the roles of Headmistress of the Girls' High School, Chief Education Officer, Cabinet Secretary, and the Governor General's deputy. She was administered the Oath of Allegiance and Oath of Office Thursday, August 1, by High Court judge Brian Cottle.
In her remarks, Dougan stated that she is "grateful for the opportunity granted [her] through this elevation to make a meaningful, and lasting contribution to the development of our nation."
Also delivering remarks at the ceremony was Prime Minister Dr Ralph Gonsalves, and the former Governor General Sir Frederick Ballantyne, who demitted office on July 31, after expressing a desire to do so due to the condition of his health.
The Prime Minister said that in submitting his recommendation for Governor General to Her Majesty the Queen, he took the responsibility very seriously, and consulted widely. He assured that the nation has an excellent Governor General in Her Excellency, and that he was certain that she would fulfill the responsibilities laid out for her in the Constitution with the highest degree of commitment and professionalism. He also thanked Sir Frederick for his immense contributions as Governor General, and particularly his leadership in bringing the World Pediatric Project to SVG.
Sir Frederick thanked everyone who helped him when he was Governor General, and expressed confidence in Dougan who served with distinction in the role when she had to act as Governor General on a number of occasions.
Dougan's first act as Governor General was the Inspection of the Guard of Honour outside Government House.