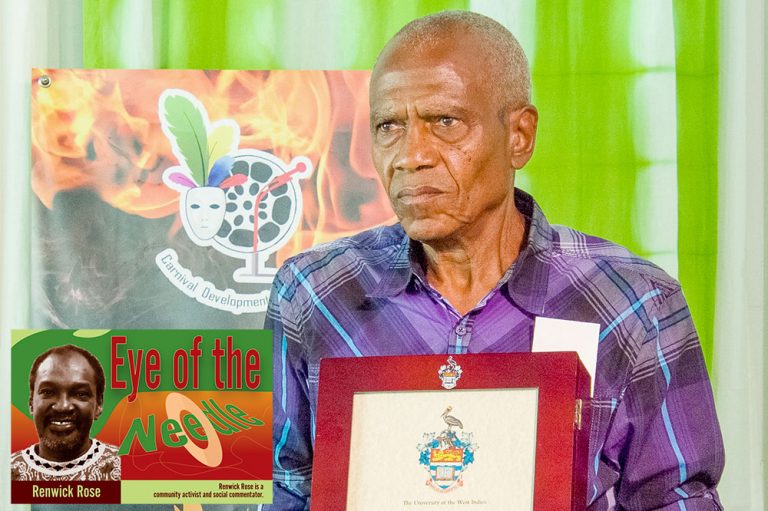 R. Rose - Eye of the Needle
October 14, 2022
A flawed approach to Independence: (Part 2 in series)
October being Independence Month in SVG, I thought it useful to draw on reprints of previous articles I had done on the topic over the years. They may be particularly helpful because my experience is that still too many people, not just young people mind you, do not have a full appreciation of the meaning and importance of independence. Indeed, if the majority of our people had that understanding and such appreciation, the result of the 2009 constitutional referendum would have been quite different.
AN INDEPENDENCE GIFT: ANOTHER
Dr. CYRUS
What an independence gift to the people of this country – a second Dr. Cyrus!
The award by the University of The West Indies (UWI) of an honorary Doctor of Laws degree to Dr. Alston "Becket" Cyrus for his contribution in the field of music is not only richly deserved, it is also very timely, coming just over two weeks before independence. There are many Vincentians who firmly believe that "Becket's" classic "St. Vincent, I love you", ranks alongside the Vibrating Scakes' immortal "A Nation is born" as even more appropriate compositions for a national anthem than our current one.
In addition, by bestowing the honorary degree, it allows our people to understand and appreciate that outstanding achievements come not only in the academic fields but in other, equally valuable areas of human endeavour as well. Thus, we have long had the brilliant surgeon, Dr Cecil Cyrus whom our young people could admire and seek to emulate.
Now we have a second Dr. Cyrus, Alston, incidentally a relative of the esteemed surgeon, also from the town of Layou. Yes, achievements in the arts, sport and other areas are just as important as the academics in nation-building. Congrats again, our humble musical giant!
But let us revert to the road to the independence theme. Though for decades, anti-colonial advocates, George McIntosh and Ebeneezer Joshua being prominent, had decried colonial rule and advocated internal self-government, the achievement of national independence seemed remote for such small islands as existed in the Eastern Caribbean.
However the radicalism of the late sixties and early seventies had put the independence question firmly on the agenda. A mere two months after the Cato-Joshua political combination won the elections of December 1974, the emerging radical nationalist grouping, YULIMO, took the initiative to organize a public discussion on Independence for SVG, at the UWI Extra-Mural campus, on February 28, 1975.
In spite of the government of the day indicating its commitment to national independence, no serious preparations were made nationally to advance this process or to get Vincentians to understand its implications. It was among civil society groups and progressive political organisations like YULIMO that independence discussions were advanced.
Let me now quote from the independence series I had written in SEARCHLIGHT in October 2018:
"The achievement of independence carries with it the need for a complete re-education from the colonial period when subjugated people, particularly those like us who suffered from slavery and genocide under colonial rule, were taught that colonialism was necessary for our "civilisation".
"Moving from this to management of our own affairs is a mighty challenge. Some countries have had to fight wars of independence to gain that right, at great cost of human life and economic disruption. We were rather more fortunate in that respect but that very fact brought with it a loss of focus. Independence became all about having a new flag and above all the trappings of power.
"One year before independence, that is with what our politicians seemed to be occupied. Whilst Joshua's PPP was ranting about "no independence under Cato" , Mitchell's NDP took to the courts to try and have the Independence Motion which was passed by the House of Assembly, invalidated. There was an absence of common purpose in educating our people about independence, pointing out the possibilities and limitations, and insisting that whilst, democratically, we have a right to political differences, the national interests must always be placed first. No wonder we are like this today!
"We ended up being led into independence by a government whose main spokesman had insisted for years that we were "not ready" for it. On the other side of Parliament there were persons who could not see the wider picture and, rather than try to engage in meaningful dialogue to force the Labour government to take an approach which would involve the nation, which would give us a sense of the grave challenges before us, which would recognize our historical development but were more interested in anti-Cato protests.
"The boycott of independence talks with Britain was one such serious error but even more damaging for the fledgling nation was the failure to embrace the popular movement and to join with civil society organisations in forcing the government to adopt an alternative approach".
(No.3 in the series next week)
Renwick Rose is a community activist and social commentator.