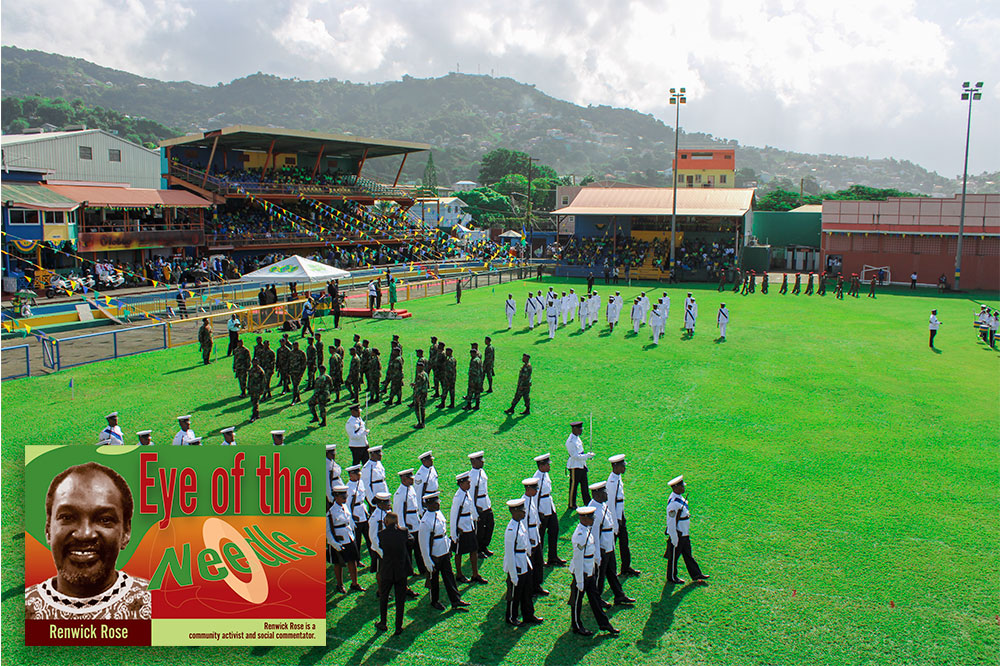 R. Rose - Eye of the Needle
October 7, 2022
New challenges for an Independent Nation
(Reprinted from SEARCHLIGHT, Oct.24, 2017)
Dear readers, In commemoration of our 43rd anniversary of independence, I am taking the liberty of reprinting, with minor amendments, a series of articles I had written on the subject over the last years but the content of which are still very relevant today. I hope you appreciate this first and the succeeding three.
Just as the first minutes of October 27, 1979 elapsed, St Vincent and the Grenadines became an independent nation, taking the road trod by many other nations which threw off the yoke of colonialism. SVG was the last of the four Windward Islands to achieve nationhood, fully five years after Sir Eric Gairy stormily led Grenada to its own, in spite of the frowns of the British government.
Since the end of the Second World War which had left Britain seriously weakened, scores of ex-colonies in Africa and Asia had marched their way to independence, bringing about a major political shift in the world. For many, independence did not come without a mighty struggle, armed conflict in many cases.
In India and Pakistan, millions were uprooted and died as the independence struggle ended in a bloody separation of India and Pakistan, and it took wars of national liberation to bring freedom to such countries as Algeria and Kenya in Africa.
In our part of the world, British colonialism and the new intruder from the north, the USA, colluded to prevent the progressive movement in Guyana led by Dr Cheddi Jagan from leading that mineral-rich and commodity-endowed country to independence. Intervention in the electoral choices of Guyanese and the encouragement of a split in the national movement is the price Guyana had to pay before it could become independent. Today, those who were not hesitant to take such steps, howl hypocritically about "foreign intervention" in their elections!
There were high hopes for these newly independent countries on raising their own flags. This was supposed to be the time for national self-determination, for striking out on a new path, for using the levers of nationhood to help to spur the economic and social development long denied our peoples by hundreds of years of slavery, colonialism, subjugation, discrimination and exploitation. 'Massa Day' had come to an end and now we were to be masters of our own destiny.
In spite of the harmful effects of the Soufriere volcano, and political instability, most Vincentians not only took pride in our national independence, we pinned our hopes, however nervously on the fact that, "Whate'er our future brings, our faith will see us through", to quote the words of our national anthem. We thronged the Victoria Park, applauded the raising of our flag, sung our anthem lustily, and revelled in the street jump-up with which we celebrated our independence.
More than forty years have elapsed since those heady days of 1979 and we have had ten general elections, and a constitutional referendum to boot. In many ways St Vincent and the Grenadines is a changed country to what it was in 1979. There have been many advances in the economic and social fields, especially in regard to housing, health and education. We have even fulfilled the lifelong dream of constructing our own international airport.
Yet in spite of these successes, our 43rd anniversary of independence finds us worried about the climate of deathly shootings and murders which stir unease throughout the land.
We are perhaps more politically divided now than ever before with little sense of recognising that the grave challenges of our time demand more mature, patriotic approaches which will allow us to put the national interests before those of political parties, politicians or rabble-rousers.
The world of the 21st century calls for enlightened and creative leadership, unity of purpose in combating poverty, ignorance and crime, while recognising differences of political opinion, freedom of association and choice. The Education Revolution must be focused on the need for continued modernisation of our society, providing opportunities for ending inequality and above all on forging new attitudes to work, production and productivity while ending parasitism and dependency.
We have come a long way but the slope ahead of us is no less steep. Our politics is in need of fundamental change and renewal, it has become a prison to our ambitions of a nation, united in purpose and committed to providing a future both for our children as well as taking care of our environment. These are tasks which we cannot shirk nor delay as we celebrate our independence.
Renwick Rose is a community activist and social commentator.