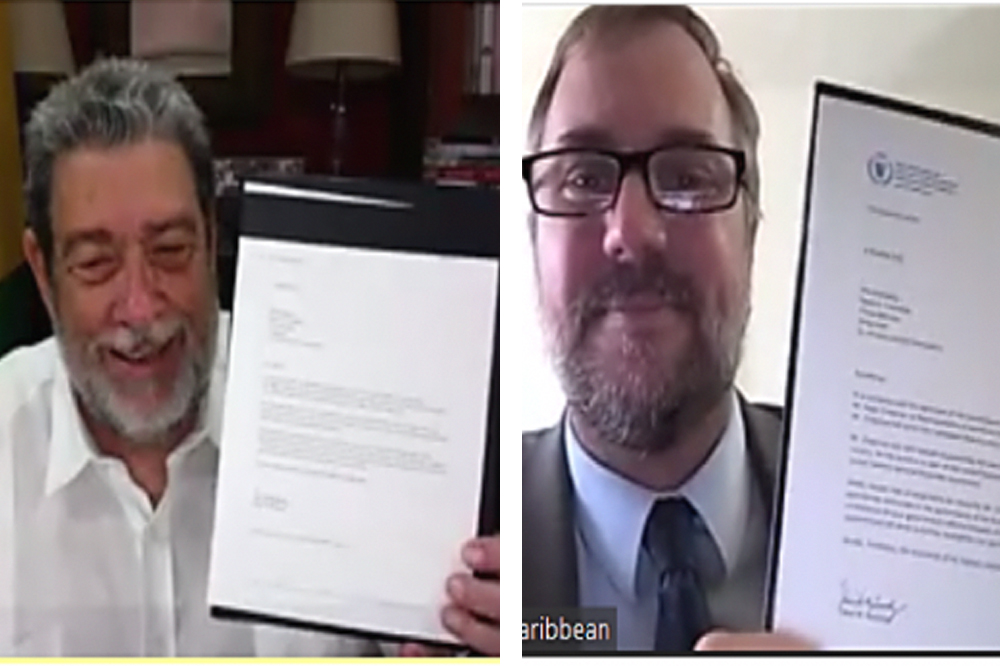 Press Release
October 12, 2021
PM accepts letters of introduction from WFP representative
THE NEWLY ACCREDITED Representative and Country Director of the United Nations World Food Programme (UN WFP) Caribbean Multi -Country Office, Regis Chapman, last Thursday October 7, presented Letters of Introduction virtually to Prime Minister Dr. Ralph Gonsalves.
Chapman has an extensive career working in the United Nations, a release from the Ministry of Foreign Affairs states.
Prior to his current post,Chapman previously held the posts of Senior Regional Programme and Policy Adviser of the WFP Regional Bureau for Latin America and the Caribbean; Senior Programme Advisor to the WFP Somalia; and Emergency Preparedness and Response Officer, UN WFP, Regional Bureau for East and Central Africa among other experiences which include working with the American Red Cross/IFRC and the Peace Corps.
The World Food Programme works with national, regional and international partners, supporting 22 countries and territories in the English-Dutch Caribbean to strengthen the region's capacity to respond in times of crisis.
The WFP Caribbean Multi-Country Office, based in Barbados, re-established the WFP's presence in the Caribbean and, following the explosive eruptions of La Soufrière volcano in April the agency launched an emergency response and continues to support the nationally- led emergency response efforts. This includes the reception, storage, transport, tracking and last mile delivery of relief items; the registration and verification of evacuees/displaced persons; conducting a vulnerability needs assessment/ verification exercise to astern the needs of evacuees outside of government shelters; and delivering critical cash assistance to meet the essential needs of those most impacted and vulnerable populations. The UN WFP has provided cash assistance to over 3,500 households as part of its assistance programme to this country.
The Ministry of Foreign Affairs and Foreign Trade and by extension the Government of Saint Vincent and the Grenadines has extended welcome to the newly appointed UNWFP Representative, and renews the Government's commitment in working together to strengthen the bilateral co-operation with the World Food Programme and this country.