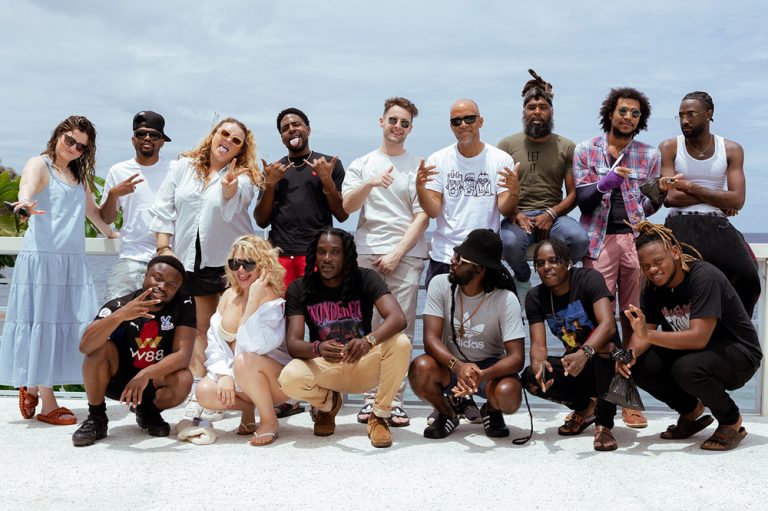 Masterroom Studios hosts international songwriting camp
St.Vincent and the Grenadines (SVG) recently played host to an international songwriting camp hosted by Masterroom Studios Ltd /Masterroom Music with multi platinum award winning producers and songwriters from the USA, United Kingdom, Trinidad and Tobago, St.Lucia and St.Vincent and the Grenadines.
The song writing camp ran from April 24-29 with 15 songwriters and producers participating to create songs and productions for international artists and record labels. The idea is to bridge the gap between Caribbean talents and the international recording industry, to have local and regional writer's have concrete opportunities for their co-written songs to be placed with major artists and labels a release quotes Mark Cyrus the owner of Masterroom Music as saying.
The camp featured Jonathan "JBMadelt" Mensah who is a two time platinum selling producer from the UK with credits including Drake, French Montana, Dj Snake and Summer Walker. Multi platinum selling and billion streaming Producer/songwriter Andrew Druski Scott was Masterroom's liason for the talented US contingent here in SVG .
Fresh off his double Grammy nominations on Chris Brown's 2022 album Breezy was Los Angeles-based producer, Charles Chizzy Stephens, who also has two songs on Jennifer Lopez' previous album.
Ace producer Malik Ninety Five was another celebrated producer at the ITC funded/UK Aid funded camp.
In 2019, Malik achieved his first number 1 album and has a Gold record for his production on AJ Tracey's "Triple S".
Of recent he reached number 7 on the Spotify Global Albums for his work on D. Savage's "BPL" album, and has had placements with YK Osiris, Ambre, and Ty Fontaine; upcoming placements with Babyface Ray, Midwxst, Peezy, ericdoa and The Kid Laroi, Joyce Wrice, and more.
The UK Tileyard Music's mega talented producer/topline writer Cameron Warren, controlled one of the four studios at the camp and created numerous amazing records.
The platinum selling producer Dr Luke's publishing company was represented at the Masterroom camp by their A&R executive Eddie Fourcell. Eddie recently placed his artist Fridayy on DJ Khaleds album
"God Did" and was in SVG as the A&R who will aid in placing the camp's songs with international artists.
Eddie's star writer Hadar Odora lit up the camp with numerous songs penned in the five day event. She has upcoming cuts with Ava Max, David Guetta, Megan the Stallion, and Faouzia to name a few.
Tileyard Music Publishing UK was well represented with their star writer Goergia Meek who wrote some huge records at the camp alongside the super talents of Katie Sewell and mega Caribbean writers, Andy Gersham Alexander from St.Lucia; R&B future star Fitzroy Creese; the soulful guitarist Krystian Mark; rising star Joushua "Chill Bill" Lewis from St.Vincent and the Grenadines; and Trinidadian hit duo Freetown Collective (Muhammad Muwakil, Lou Lyons).
Thirty three songs/productions were created during the songwriting camp and will be pitched as per the camp brief to the likes of Rihanna, Justin Beiber, Khalid, Rotimi, Ariana Grande, to name a few on the 'brief' list.
Some of the highlights from the camp as mentioned by the visitors were the amazing food catered by Lana's Kitchen and the beautiful hospitality and surroundings of Beachcombers Hotel, Ada Restaurant and St.Vincent and the Grenadines.
"This changed my life" was quoted by many of the songwriting camp participants as they departed . Cyrus said this is just the first of many camps as we try to find and nurture the next Caribbean star writer and artist.