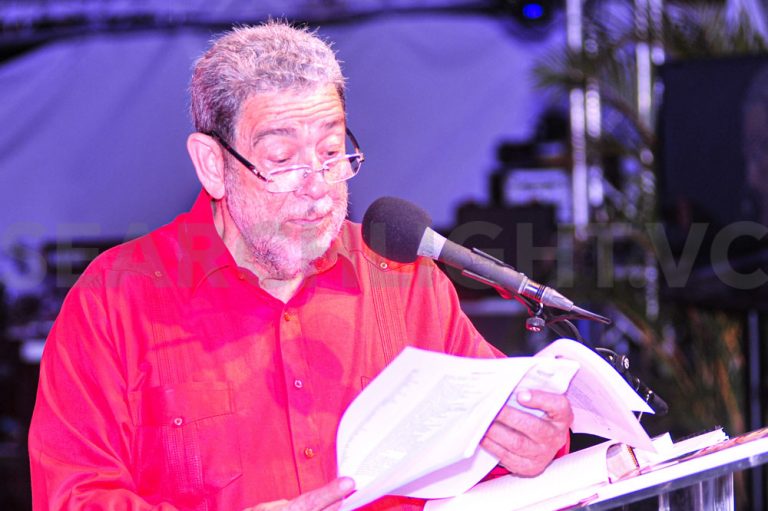 PM chides CDB over slow response to Climate Change matters
The Caribbean Development Bank (CDB) has come under fire from Prime Minister Dr. Ralph Gonsalves who said on Tuesday that the organisation drags it feet on matters relating to climate change.
The Prime Minister made the criticism while speaking at the launch of the EC$240 million Country Engagement Strategy for St Vincent and the Grenadines (SVG) which has a runtime of 2022 to 2026.
Addressing a packed conference room at the Sunset Shores Hotel in Villa, Gonsalves said the CDB must acknowledge that they need to do more, do better, and move faster to help countries like SVG achieve the requisite effect from programmes like the Country Engagement Strategy.
"The CDB, the way it has functioned has not been the best vehicle thus far to address issues and projects concerning climate change….
"Nature itself is not waiting on the Caribbean Development Bank or any of us and the example of Sandy Bay is a case in point," the Prime Minister said.
He said he could not address the function without mentioning the issue he has with the CDB, and he wanted residents of Sandy Bay to hear what he had to say.
"Everywhere I go, I fight for them because they have suffered too much from the time of British colonialism, the Garifuna and the Calinago."
He pointed out that Sandy Bay is in danger of being wiped off the face of SVG and what is troubling is that the project to rectify the environmental issues started under the National Disaster Management (NDM) Project and while there have been various NDMs since Hurricane Tomas in 2011 Sandy Bay has still not been addressed.
"That is 13 years ago and what has happened to Sandy Bay, the project has gotten so much larger and larger and more expensive because of the erosion, and the CDB has pussyfooted too long on that project and I want the people of Sandy Bay to hear me on this."
Gonsalves said the Sandy Bay project was initially expected to cost $10 million, but it was not done early enough so the cost now stands around $50 million.
"…and if we had done it then we wouldn't have had the problem which we have now. We have to now spend nearly $50 million on it.
"It went through various stages and every time we do a design on it, you have to perfect it, do this consultancy that consultancy, government becomes a continuing university seminar and nature ain't waiting…
"Eroding, eroding, eroding and you have to take it out from the NDM and put it as a single project and even now, while we are about to start… we starting only with Lot one and Lot Three and the middle one, Lot Two, is not there to start now…", he complained.
"The total cost is going to be 40 something million dollars, maybe 50 million and we have to pay for it," the PM lamented.
He added that every time he speaks about that project, bureaucrats at the CDB say "…'yes, but we have to study this and study that and so on' and it just continue and continue. That is a solitary example of the slowness of the response of the Caribbean Development Bank, good as that bank is in many respects, in dealing with a lot of climate change matters."
Gonsalves said apart from being slow in their response, the bank has also not been listening to the governments- including Prime Ministers.
"They often listen too much to bureaucrats from within the countries …and it is shameful that the Garifuna and the Calinago had to wait until 2013 to get this thing done…".
Gonsalves said that is but one example and because of the inadequacy of the CDB in dealing with climate change matters some governments mistakenly, are talking about having a 'green bank', a position which he does not support.
"I'm treating the CDB as a very faithful spouse but I want you to make amendments in how you are operating, and there is a slowness for self-criticism and that is vital if we are going to have to ward off people, some persons who want to have a diminution of the role of the CDB in these matters," Gonsalves said.
He said that while he has defended the CDB, the bank has to understand that this is a new period and we have to function differently and move faster.
Gonsalves said also that sometimes, the CDB acts like an "empire" in relation to its Member States/borrowing countries being colonies of that empire, and that cannot be the case."
"I am talking here for all the frustrated leaders across the region, but my frustration is not turning into anger you know and my frustration is not turning into divorce either.
"My frustration is calling for an amendment of how we function in this vital area relating to climate change."
He noted that on Monday, the European Union (EU) said their new sets of envelopes are not going to address roads, bridges and sea defences.
"I don't know what they going to deal with in relation to climate change so if the seas are onrushing, it rising- we are fortunate a little bit in St. Vincent, we have some mountains we can go on…but a lot of low lying areas where there are houses would be gone so I don't know what the European Union talking about.
"But we in the CDB, the things we have to do, we have to do and we have to do them better and faster and I am urging you to pay a lot of attention to policy makers even as you engage on an ongoing basis with policy implementers."
Gonsalves pointed out as well that the Borrowing Members must not allow Non-borrowing Members to run the bank.
"The CDB cannot be the bank [whose decisions are] determined in accordance with the dictates largely of Britain, Canada, Germany and Italy, important partners as they are…".
"These are things that have been boiling and we have to talk about them," the Prime Minister stressed.