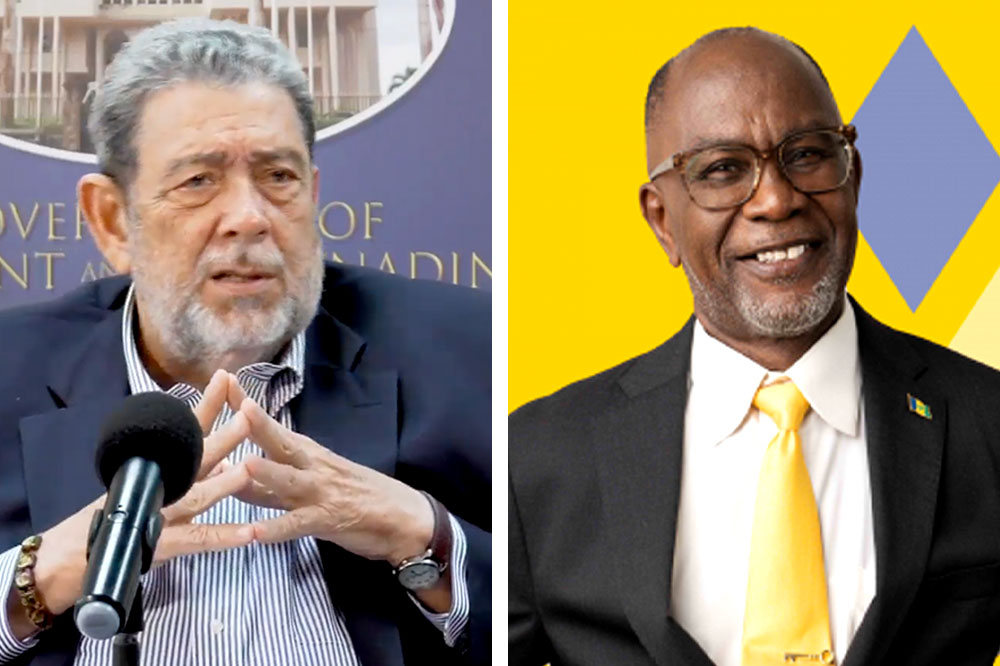 Gonsalves describes criticism of his visit with King Charles as 'loose talk'
Prime Minister, Dr Ralph Gonsalves has hit back at a member of the Opposition for comments made about his visit to Balmoral Castle, Scotland, to meet with King Charles III.
"I've seen some loose talk by at least one member of the Opposition here in St Vincent and he gets looser by the day," Gonsalves said at a press conference held in cabinet room on October 4.
"…Apparently a long period of Opposition has certainly addled his brain," he commented.
Towards the close of his recent trip overseas the Prime Minister visited the King at Balmoral Castle on October 1. The moment was captured in photographs and posted to news articles and social media with reports that it was one of the monarch's first official audiences since royal mourning on the death of Queen Elizabeth II ended.
This precipitated comments from 'Major' St Clair Leacock, Member of Parliament for Central Kingstown and Vice President of the New Democratic Party (NDP) who is Acting President of the party when Dr Godwin Friday is out of state.
Leacock spoke on the New Times programme aired on Nice radio on October 3, declaring that "Ralph's presence in England in the weekend to meet the King of England is the highest, most demonstrative level of political fraud ever seen or heard in my lifetime. It would be difficult to see more barefacedness than that. "
"This is a man who has been rehearsing for the last – 2009 was the referendum (to remove the Queen as head of state)- in the last 13 years that we need to 'get rid of the queen', 'get she off of we money', 'get she off of this, get she off of that' – That's him," Leacock said.
While not naming someone Gonsalves seemed to be referring to these comments when he held h is press conference.
"It is well known, and King Charles himself knows, that I am not in favour of a monarchical system for St Vincent and the Grenadines, and I am not in favour of a British or foreign person to be head of state of our country," he said.
"But…that does not mean that whilst the person remains the sovereign head of state, that I mustn't communicate with him, or with Her Majesty Queen Elizabeth, as it was."
He noted that he must have the respect, "…not because my personal view is that we should have a home-grown, non-executive President."
The Prime Minister further remarked that "they" continue with "their dishonesty" in saying that he (the Prime Minister) wants to replace the monarchy with himself.
"Why would I want to leave Prime Minister to become a ceremonial head when I have Prime Ministerial authority? I doltish? Come on, come on, come on, come on," he said. Gonsalves describes criticism of his visit with King Charles as 'loose talk' With a noise seemingly akin to a scoff, Gonsalves commented that "There are people – I, I don't aspire to that."
As for the discussion he had with the King, the Prime Minister said that he cannot and would not reveal the contents, as it is not his place to do this.
However, he did reiterate the King's known public positions.
Gonsalves said that the King "has a very strong and progressive position on climate change" Further, as the monarch is the head of the Commonwealth "The Commonwealth is important to him and he has said that publicly."
"St Vincent and the Grenadines is a member of the Commonwealth and the Commonwealth has its limitations but it possesses possibilities, and we work through the Commonwealth on many important issues touching and concerning governance for instance, technical assistance."
He said there are several such areas.
"…Not because I am not in favour of a monarchical system I must be disrespectful to the King or to the British monarch. I mean that's imbecilic. It's infantile."
"And it's only when people- it look as if they in opposition so long they just talk a lot of rubbish," the Prime Minister commented.
Gonsalves also said that he had to personally thank the King for helping in the arrangement of 55 scholarships for Vincentians worth 4.5 million pounds.
"And this is someone I also had to go to to say thanks because of the contribution that he made to the British Red Cross. And as patron to the British Red Cross, and the contribution they made to our relief efforts in St Vincent and the Grenadines during the time of Covid."
He indicated that the head of the local Red Cross can also attest to this.
"So…come on let us have a discussion which is intelligent nuh? Let us don't behave in this completely idiotic way. Huh? But there it is," he concluded.