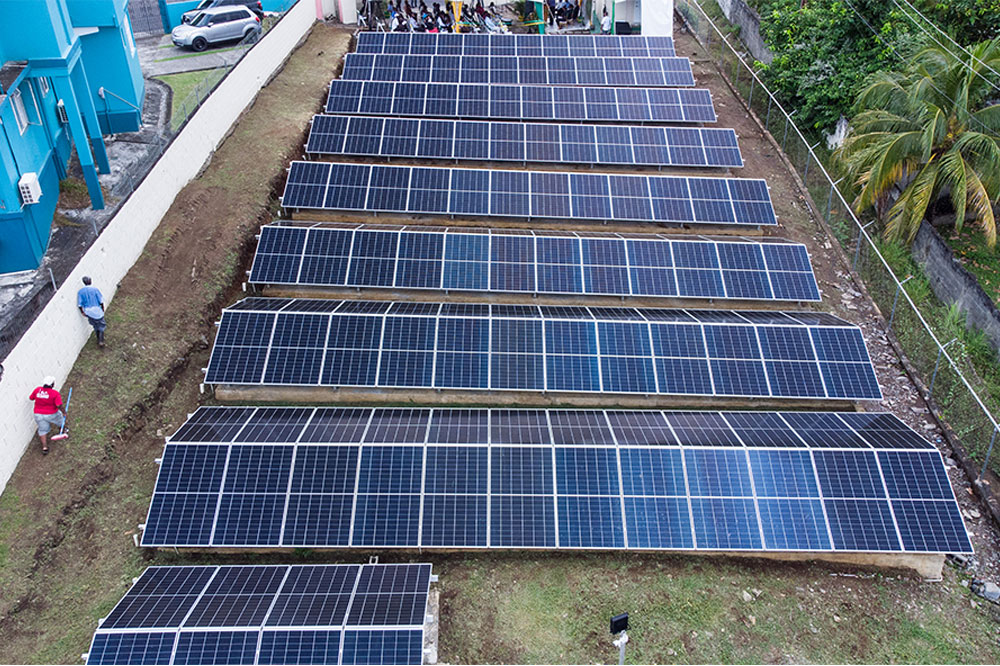 Kingstown Credit Union blazes the trail in Solar Energy Provision
A LOCAL credit union, which recently launched a $700,000 solar panel system, has been described as a trailblazer in the thrust for greater use of renewable energy sources in St Vincent and the Grenadines (SVG).
Deputy Prime Minister and Minister of Transport and Works, Montgomery Daniel was among those who heaped praise on the Kingstown Cooperative Credit Union (KCCU) on September 29 at the launch ceremony for the credit union's 121 kilowatt photovoltaic (PV) project at Kingstown Park.
Daniel said KCCU has responded well to the government's call for the use of renewable energy as stated in the St Vincent and the Grenadines 2013-2025 Economic and Social Development Plan.
"The government wants to ensure a clean country and a safe world, " Daniel said as he encouraged the KCCU to continue the work they have been doing.
"You are the trailblazer in this crusade in solar energy and so I want to say to you, continue to do the good work you are doing, you are one step ahead of most of our good corporate citizens and I say to you, let your light shine before us all."
Also lauding the credit union for their work was parliamentary representative for Central Kingstown, St Clair Leacock, who said he is very grateful to have witnessed much of what he has spoken about, dreamt about and advocated, come to reality.
Leacock said that no praise is too much to give to KCCU for this milestone which they have accomplished.
"The world is changing very quickly for us and we too have to be able to speak with great clarity and conviction on contemporary subject matters such as climate change," Leacock noted.
Describing the project as exemplary work, he also said it represents good corporative governance, demonstrative management and visionary leadership.
In his address at the ceremony, President of the KCCU,Terral Mapp said he is delighted and excited to unveil another milestone of the KCCU.
He said a feasibility study conducted in July 2021 shows that the system, which has the capacity to produce 121 kilowatts of clean energy, will pay back for itself in seven years.
The system is expected to generate returns of $9,600 monthly over 25 years, resulting in over $2 million in cumulative cash flow.
This PV system is the third such investment for the KCCU.
"This farm follows the successful installation of a 47 kilowatt system at the Kingstown office
and a 11.4 kilowatt system at our Marriaqua branch," the president said.
"KCCU has installed close to 180 kilowatts of solar energy that will generate $13,000 in returns monthly at an investment of over $1 million dollars. This represents the largest investment in clean energy by any financial institution in SVG," Mapp said.
He noted further that the project provides direct income which is important as a financial institution.
Mapp however said their investment in solar PV is not so much for profit maximization, but more so,because of an understanding that harnessing renewable energy brings tremendous benefits to the environment and the economy.
Addressing the gathering, Taireene Warren, representative of SoLife Solar congratulated the KCCU for being the first such institution to invest in Solar PV in SVG.
"… They were the first financial institution to make such a sustainable investment for their members…. They are also now able to give even higher returns to their members."