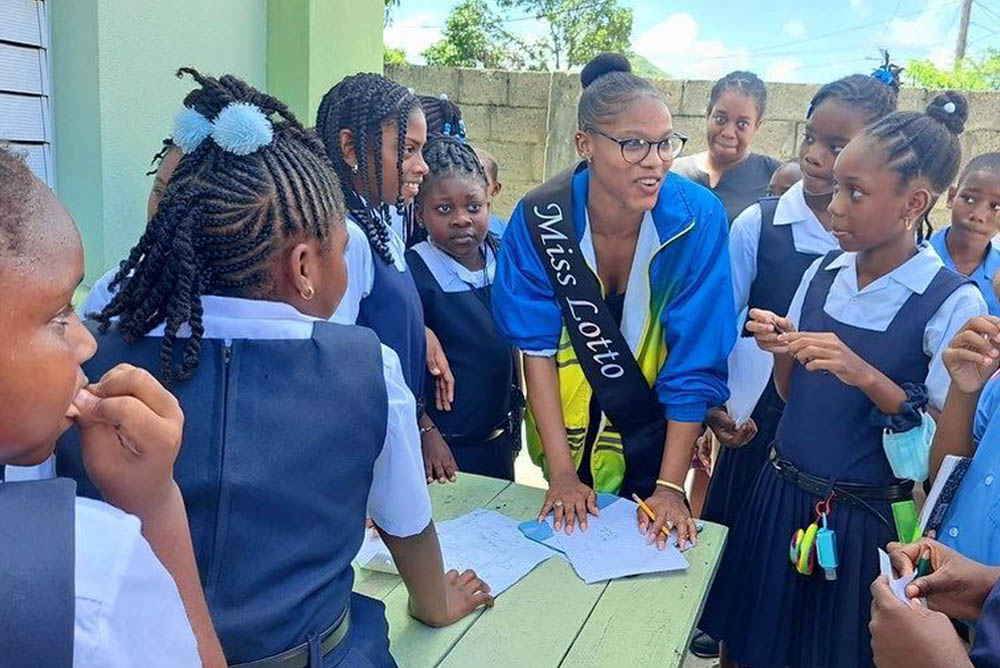 Contestant in the 2022 Miss SVG pageant captures hearts through her '1000 Acts of Kindness Project'
Jada Ross, a contestant in the 2022 Miss SVG pageant has captured many hearts through her '1000 Acts of Kindness Project' which was completed on Sunday, September 18.
For this year's Miss SVG pageant, the Beauty Shows Committee in conjunction with the General  Employees' Co-operative Credit Union (GECCU) launched the first ever GECCU MISS SVG  Community Service Project, which seeks to boost community engagement and platform building through volunteerism.
The contestants were expected to  conceptualize, prepare and execute activities that are in keeping with their selected themes for one week in the month of September.
Ross, who was sashed Miss Lotto in June concentrated on 'Community Beautification'.
The  Prospect resident who placed her constituency of East St. George at the centre of her project  entitled, '1000 Acts of Kindness', launched her outreach on Monday, September 12.
"The idea for this project was spawned by the $1000 contribution by  GECCU", Ross said.
For the entire week, '1000 Acts of Kindness' were displayed in five key areas: 'love  for the development of our minds'; 'love for the world in which we live'; 'love for our mental  and physical well-being'; 'love for our pioneers in sports and culture'; and 'love for Lenny'.
On Monday September 12 and Tuesday, September 13, Ross traded her heels and makeup for a pair of Crocs and  garden gloves to embark on a tree-planting exercise at the four primary schools in East St.  George.
The ceremonies which took place over a period of two days, saw Grades Four and  Five students of the Fairhall Government School, the Calliaqua Anglican School, the Sugar Mill  Academy and the Brighton Methodist School engaging in an intense environmental campaign.
During these two days, a total 250 fruit trees were planted. This exercise was made possible  through partnership with the Ministry of Agriculture, whose Permanent Secretary, Nerissa  Gittens provided a team to assist with the tree-planting at all schools.
Additionally, Laverne Velox and Janke Glass, donated the fruit trees that were planted at these  primary schools.
In addition to planting trees, Jada also donated fruit trees to the staff and students of the school to encourage them to save the planet and show love to the  environment.
Love for the development of our minds: 
Later that week, Miss Lotto once again returned to all four schools to distribute book vouchers  to the students, and tokens to the teachers. This time, she targeted students at the beginner  levels to beautify their minds and aid in the enhancement of their literacy skills.
"They wanted  me to read more stories after my first. I guess I'm a good story teller! I enjoyed every moment  I spent with the students of East St. George this week. I wish to do this more," Ross said.
This means that through Jada's '1000 Acts of Kindness' project, each student in the East St.  George community in Kindergarten, Grades One and Grade Two (357 students) will receive  one story book generously donated by Monica Dougan, Dr. Hughes Dougan and family,  redeemable by voucher.
These books will be delivered and presented to all students during  the course of this week.
The Staff of these schools were also considered and presented with water bottles, bags, pens  and pencils as a small token of appreciation compliments the '1000 Acts of Kindness' initiative,  as Jada believes that teachers play an integral role in the education of our nation's youth and  should be recognized at all times.
According to Jada, "My efforts would not be as gratifying had it not been for the welcoming  attitude displayed by every student and teacher within these schools. I am beyond thankful  to GECCU and the Beauty Shows Committee for the inclusion of this activity to the Miss SVG  Pageant.
"It is also imperative for children to understand the importance of giving back to the  environment and saving the trees, as they are our main source of oxygen, which is essential  to our lives."