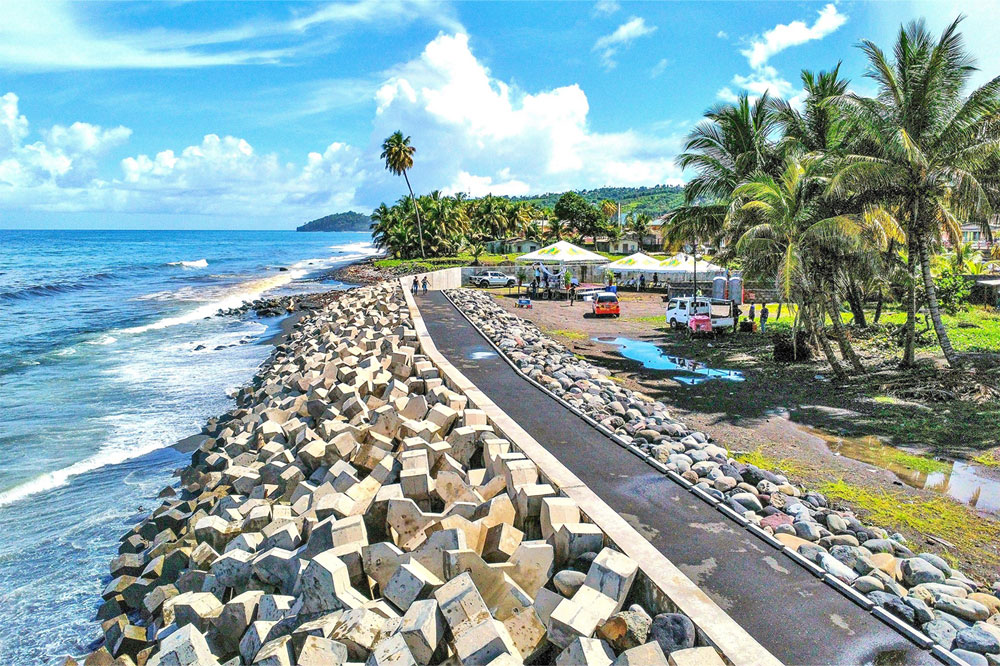 Shorelines of SVG being protected from further erosion
THE GOVERNMENT of St Vincent and the Grenadines (SVG) is making efforts to protect the shorelines from further erosion as well as mitigate the effects of climate change.
On Friday, September 9 there was the official opening ceremony for the coastal defence works in San Souci and Georgetown which are components of the Regional Disaster Vulnerability Reduction Project,funded by the World Bank.
Giving an overview of the project Programme Manager, CDB Natural Disaster Management Projects, Cecil Harris noted that "Coastal defence jobs in any part of the world, is an extremely expensive endeavour."
He explained that in St Vincent and the Grenadines the cost of such work is between $10 and $20 thousand dollars per foot.
Harris said the feasibility study which was done for the Georgetown component of the project showed that the shoreline had receded by more than 60 metres in 40 years.
Harris said that "given the aggressive rate of erosion," the sea defence works were necessary.
He added that they wanted to create an area for swimming in Georgetown, but the cost of this was just prohibitive.
Harris explained that the sea defence works in San Souci and Georgetown were designed to cater for hurricane waves, with a 1 in 150 year return period.
The designs also cater for a ten inch rise in the sea level.
The work at Caratal in Georgetown was done at the cost of $26 million.
Works began in January, 2020 and were completed by November 2021.
The work at San Souci was done by Kelectric Company, while the works in Brownstown and Caratal were done by OB Sadoo Engineering Services Ltd of St Lucia.
In his address at Friday's ceremony, Owen Bradley Sadoo, owner of the firm said in excess of 150 Vincentians were employed during the construction of the project.
Sea defence works will also be done in Sandy Bay, Dark View, Rose Bank, Arnos Vale along the approach to the decommissioned E.T Joshua airport, as well as Villa, Calliaqua and Kingstown.