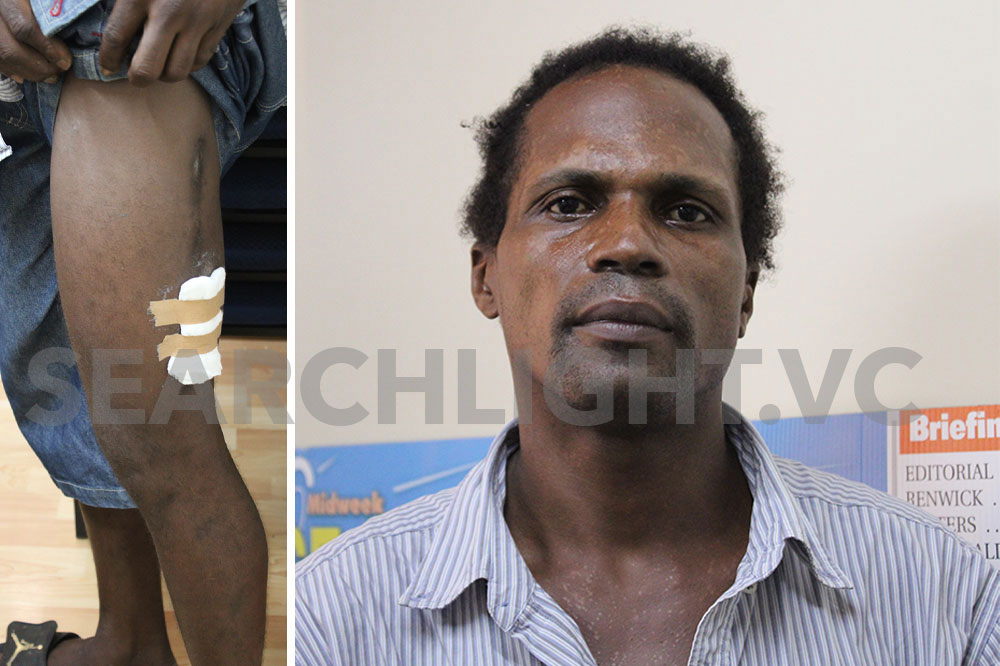 Fairhall man hoping for compensation to fix his broken leg
A Fairhall farmer is calling on the police to arrest and charge a man he claims is responsible for an incident that broke his leg more than five years ago.
The man, Everette Ollivierre is hopeful that once charges are laid and the judicial process begins it will eventually lead to the compensation he needs to afford life changing surgery abroad to properly heal his injured leg.
Ollivierre, who walks with a cane, visited SEARCHLIGHT this month and recalled the 2018 incident in which he said a man tried pushing him over a wall in Fairhall, after the two exchanged words.
The farmer said he held on to his attacker, dragging him over the wall with him and when the two landed on steps below, his leg broke on impact.
He said no arrest was made in 2018 and despite his repeated visits to the police and the office of the Director of Public Prosecution (DPP), his attacker still walks free.
"I used to have 30 something pigs, how much crops of tomato, cabbage… I'm not able to function like I'm used to…everything that I do always has to be part-way," Ollivierre told SEARCHLIGHT, as he explained that despite having surgery on his leg, it has become infected and a hole now exists in the bone of his upper left leg.
The Fairhall man also spoke of his frequent, and painful visits to the hospital because of Methicillin-resistant Staphylococcus aureus (MRSA) — a staph infection that is difficult to treat because of a resistance to some antibiotics.
He also produced a list of medication that he is required to take for his condition, which he claimed can cost as much as $600.
Ollivierre added that doctors have apparently advised that the only way for his leg to heal properly is to have surgery abroad.
"The doctors for the past few years have been telling me I need to rest. I'm not even supposed to be working and walking…I'm supposed to be resting all the time. They basically want me to be like a cripple, I'm supposed to sit down basically and give up," he told SEARCHLIGHT.
"I can't do that. If I do that, I have to depend on people. I have to depend on people for everything and I can't do that. I need this guy to be arrested, charged for what happened."
Ollivierre said he recently spoke with the Deputy DPP, Karim Nelson who told him that files on the matter had been sent back to the police.
However, he claims that after several trips to the Calliaqua Police Station, he was told that the file appears to be missing.
"You have multiple witnesses, you went and got witness statements. I don't know what the witness statements say, I don't know nothing, but a few witnesses met me and say, 'oh what happened? What become to the case? Why the man still ain't get lock up?' Everyone wants to know why the guy hasn't been arrested. The police is the only ones who can answer…" Ollivierre pointed out.
"I have no form of income. Whatever I make from the crops I plant, that's not going to be able to pay for me to do this surgery. How am I supposed to get compensation to do this surgery? Where am I supposed to get that sort of money from?," he asked.
Ollivierre continued: "When this surgery is done, I won't be able to like walk for a year or some again, just like when my leg was broken. I have to be going through all of this, year after year and like no one seems to care".
Superintendent Trevor Bailey, the the Divisional Commander of the South Central Division, which includes the Calliaqua Police Station told SEARCHLIGHT this week that he spoke with Ollivierre on Friday, August 12 and assured him that he (Bailey) would look into the matter.
The senior police officer said he was not familiar with the facts of the case and would have to locate the file.
Bailey said, "I'm trying my best to look into it" and he asked that Ollivierre allows the process to take its course.