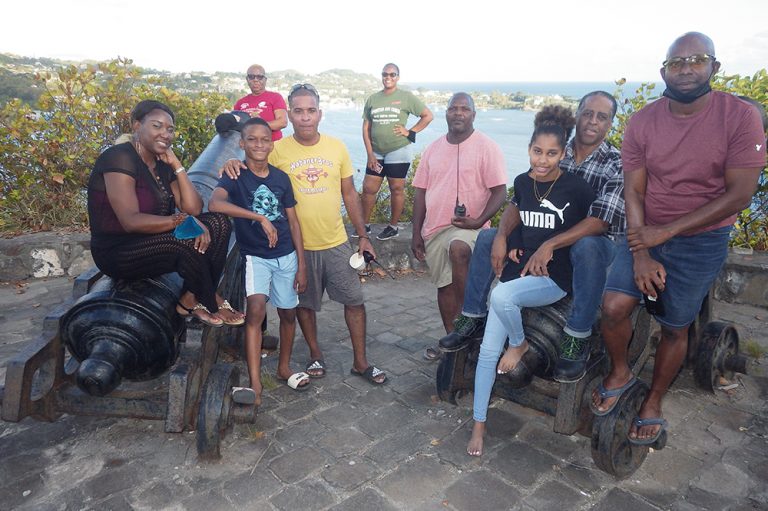 Youlou Radio Movement hosts second 'Summit on the Air'
Fort Duvernette 'aka' Rock Fort, affords one of the best views of St. Vincent and the northern Grenadines, and it is safe to conclude that this was Paramount Chief Chatoyer's favourite spot to smoke his 'peace pipe', having been the former owner of a larger nearby islet, that is today called 'Young island', after a British governor bearing that surname. Some history books say Young Island was exchanged by Chatoyer for a white horse; others just say it was an impressive stallion. But a horse by a different name or colour is still a horse ….and that is now history.
Rock Fort was the location for the second Summit on the Air (SOTA), organised by the Youlou Radio Movement (YRM), during its 27th anniversary month. SOTA is conducted by local ham radio operators as well as Hams operators around the world. These activities give radio operators the opportunity to operate from remote locations using emergency power and antennas. On this occasion, and operating with only 15 watts, contacts were made with other radio amateurs in Guyana, Carriacou, Barbados, Grenada and Trinidad using both VHF and HF radios.
Similar to SOTA, is POTA, or Parks on the Air, where similar activities are conducted, but which afford a little more space for better antennas and is more conducive for older Hams to participate. These activities also allow radio operators to explore little known parts of their country as well as getting to know each other better by working together, skills that are essential when responding to natural or man made disasters. The YRM also intends to stage several POTA and SOTA events from the various parks in SVG during 2022. All of these activities are designed to train the younger radio operators with message handling skills as well as being able to set up and operate emergency equipment under less than ideal circumstances.
According to the Director of the YRM, Don De Riggs – J88CD, both SOTA events to mark our 27th anniversary were successful.
However, there are a few observations that need to be highlighted. Visitors to our heritage and tourism sites MUST always bring garbage bags to collect any solid waste generated. At the Fort Charlotte Gardens, the area was clean, except for the outside parking lot where garbage is thrown indiscriminately over the embankment. The situation at Rock Fort is unacceptable with broken beer and rum bottles, and discarded KFC boxes among other litter around the picnic shed.
To compound the situation, on Rock Fort, rats abound which frequent the areas where the litter is thrown. As a prime heritage tourism location this is also unacceptable. How would you feel travelling thousands of miles to enjoy our natural beauty, or a casual visit by a local, and end up a victim of leptospirosis? This too is unacceptable ! It is our COLLECTIVE DUTY to keep our country, including our recreational sites clean. It is also the duty of the Ministry of Tourism and National Trust to hire persons to clean their sites, thereby keeping these areas in pristine condition. Rock Fort is also a prime location for professional wedding photographers.
Many local visitors would take snacks and beverages while enjoying the ambience of Rock Fort and would invariably leave their bags at the gazebo while exploring the historical ruins on the little islet, only to return and meet a hole in their snack bag and sandwiches partly eaten by rats. We saw too many of them! Five at one time in an area just vacated by some picnickers. The eradication or control of these rodents must be done sooner than later, as we don't want to be 'blacklisted' as a country where you can contract 'lepto' through a casual visit by just sitting or leaning on a wall sprayed with rat urine. That apart, from the summit, Fort Duvernette affords one of the best views anywhere in SVG. Let's keep that reality, a memorable experience.