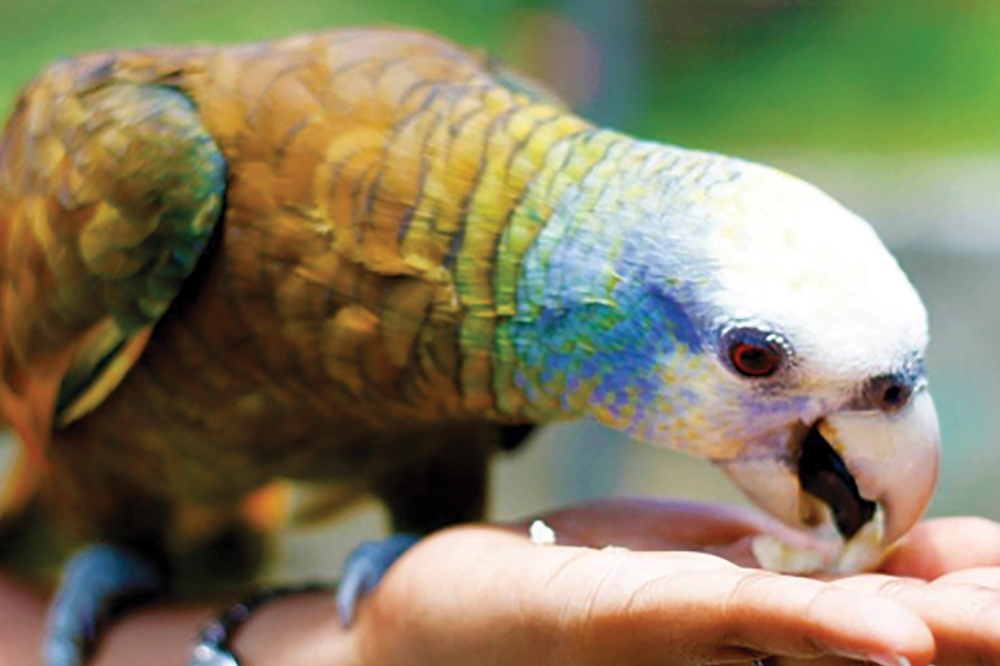 Parrot census concludes today
THE FORESTRY DIVISION within the Ministry of Agriculture is today wrapping up a count of the St Vincent parrot which has engaged the services of 60 people.
Those engaged in the September 14-17 parrot census included volunteers who journeyed to five sectors in remote locations of the forested interior of the mainland for the three day exercise.
The head count of the Amazona Guildingi, this country's national bird was previously carried out every two years since it was initiated in 1986. The most recent census was however done in 2010 and recorded an estimated 800 parrots. No census was conducted since then.
The recent eruptions of La Soufriere volcano, along with the almost annual occurrences of extreme weather events have heightened the need to have a census to determine if these eruptions impacted the population in the wild, a release from the Forestry Division states.
Assistance to conduct the census was made possible through resources received from two Global Environment Facility (GEF) funded projects, executed through the UNDP. These are 'Conserving Biodiversity and Reducing Land Degradation using a Ridge to Reef Approach', and the UNEP 'Integrating Water, Land and Ecosystems Management in Caribbean Small Island Developing States' (IWEco) Projects.
The methodology adopted saw teams conducting dawn and dusk watches in the five sectors which were further subdivided into five watch-points. In the past, census exercises were executed over a fiveweek span, one sector per week. With the provision of resources through the joint projects, the census has taken a different approach which saw all sites being observed simultaneously, providing the opportunity to make observation throughout the island at the same time.
The Forestry Division said that favourable weather permitting, the exercise will provide data about the current wild population stock of the national bird, and other observations will provide information regarding the health of the nation's forest and the ecosystem services it provides which is the key to the sustainable development of the nation.