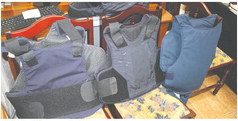 RSVGPF receives new bullet-proof vests
THE ROYAL ST VINCENT and the Grenadines Police Force (RSVGPF) received 17 new bullet-proof vests on Tuesday, compliments Lantie Castello, a Vincentian residing in New York.
Castello, who has worked as a police officer in the New York City Sheriff's Department for the past 28 years, said that he sees the need for the RSVGPF to keep up with 21st century law enforcement.
He referred to previous conversations with Deputy Commissioner of Police Frankie Joseph about acquiring enhanced body armour for the police, a mission which took him one year to achieve.
Castello expressed the view that saving the life of even one police officer is a good thing and as law enforcement officers, they are all in it together.
In accepting the donation, deputy commissioner Joseph conveyed thanks on behalf of Commissioner of Police Colin John and the rank and file of the RSVGPF.
Joseph said it is always a good thing when citizens of St Vincent and the Grenadines (SVG) give back to the police. He stated that if the police have to fight crime alone, then the organization would not be as successful as it would want to be.
The deputy commissioner reflected on the issue of crime in SVG over the past few years and highlighted the rise in gun crimes throughout the country. He pointed out that most of the homicides committed now are done through the use of firearms and therefore praised Castello for his timely and much needed donation.
Joseph stated that the safety of police officers is paramount and there are times when the men and women within the police force are short of, or do not have the necessary protective armour, but still have to risk their lives to go out and ensure that the citizenry is safe.
He opined that the donation will go a long way in protecting police officers whilst on duty. Joseph stated that with the donation of the vests, he is sure that the police officers will feel much safer carrying out their duties, knowing that they are protected and will definitely put an extra effort in performing their duties.
In commending Castello for his kind donation, the deputy commissioner said he hopes that business houses in SVG would feel motivated to make similar and other donations to the police to assist with fighting crime.
SOME of the new bullet proof vest
VINCENTIAN RESIDING in New York Lantie Castello (right) hands over new bullet-proof vest to Deputy Commissioner of Police Frankie Joseph