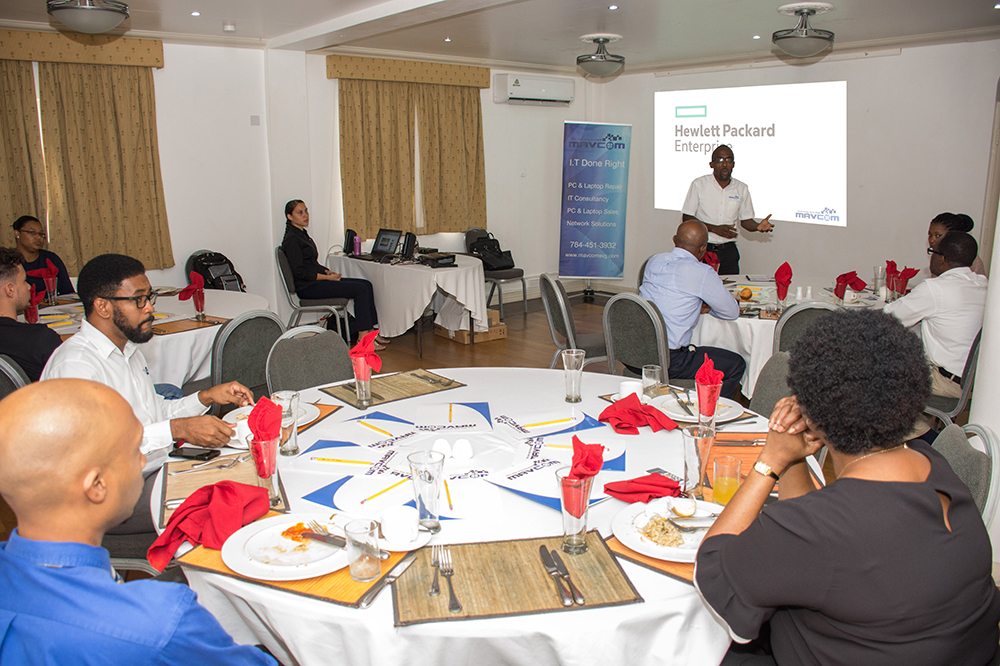 Mavcom SVG leads way in digital transformation
MAVCOM SVG has taken the lead in making Digital Transformation accessible and affordable for businesses in St Vincent and the Grenadines (SVG).
Mavcom SVG and its long-standing strategic partners Microsoft and Hewlett- Packard Enterprise hosted a webinar "Are you ready for Digital Transformation" on Tuesday April 24, 2018 at Grenadine House.
During the presentation by HP Enterprise's Territory Manager Edgar Bernardo Mesen, cutting edge corporate digital transformation tools including HPE SimpliVity, Hyper Converged Infrastructure and HPE Flex Solutions were explained and demonstrated.
Paul Morris, Managing Director of Mavcom SVG, was thrilled with the interest shown by the mix of public and private sector attendees.
"Digital Transformation is imperative for enabling the successful implementation and execution of any business strategy" said Morris. He added "Every enterprise is concerned about providing superior value for its stakeholders. Digital Transformation is the most comprehensive, efficient and cost-effective way of achieving that level of operational excellence."
The Webinar was followed by a soft launch of Auxano SVG (www.auxanosvg.
com), a Vincentian company specializing in business services including branding, website development, online storage, Search Engine Optimisation, web and mobile application development and real estate services.
Mavcom SVG won the Best of SVG IT Digital Service Provider award for 2017. The webinar and facilitation of the launch of Auxano are part of a continuing commitment to providing its clients with innovative and affordable IT services.
MANAGING DIRECTOR of Mavcom SVG Paul Morris addressing participants during the webinar "Are you ready for Digital Transformation"