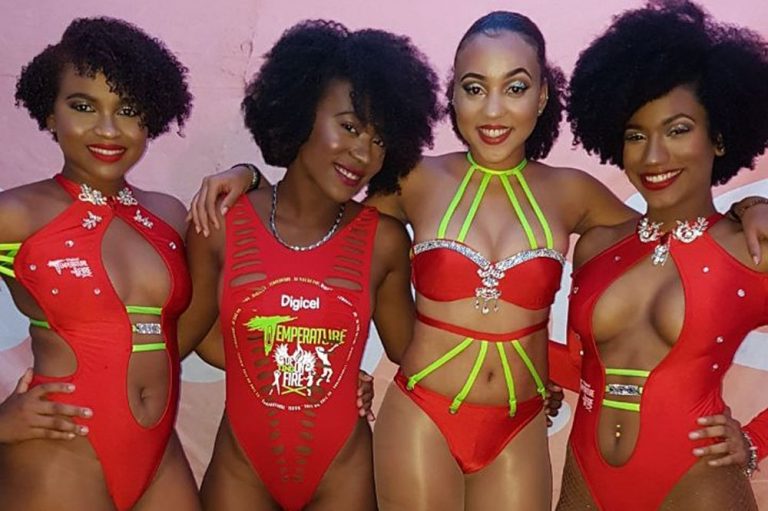 Temperature red hot, as Digicel unveils costumes
Patrons at Vincy Mas 2017 are in for a treat, as Digicel promises to heat up the place for the second consecutive year, with Temperature.
Digicel, in partnership with Xtreme FM, on Saturday, May 27, at the ET Joshua tarmac, officially unveiled its 2017 production dubbed, "Temperature – De ting on fire". Thousands of Vincentians were on hand to witness the unveiling of the costumes from three sections — General, VIP and Plus Size.
President of Digicel SVG's Social Club Jomari Rogers said: "Though Temperature 2016 gave persons a Carnival experience like no other, this year the band's name, "Temperature – De ting on fire" speaks to what persons can expect for Vincy Mas 2017."
Sharing his thoughts following the launch of Temperature on Saturday, Rogers said he is extremely proud of Digicel's 2017 production, adding that it was well received by patrons. "We had no choice but to answer to the call of the thousands of revellers who have been requesting the return of Temperature," he noted.
Rogers added that though Temperature is SVG's newest Carnival Monday T-shirt band, word quickly got around that the best experience on the road last year was with Digicel. Things are currently being put in place to ensure that patrons get an even more memorable experience for Vincy Mas 2017, Rogers pointed out.
He said persons could look forward to partying with some of the best local and regional soca artistes and DJs, come July 10.
Rogers also urged persons to avoid the rush and get registered early at the Digicel's main office and at the branch in Kingstown.
Meanwhile, the launch of Temperature 2017 was a night that saw all Digicel customers being rewarded on entry, as they were given a five-day Quick Pick bundle, which includes five days of unlimited local Digi to Digi calls, unlimited Whatsapp messaging, an allotment of data and anywhere local minutes.
Two Digicel customers also walked away with new Samsung Galaxy smartphones, after correctly answering questions related to the Quick Pick bundles. Digicel also thanked its partners Xtreme FM, Ju-C and Mount Gay Rum for helping to make Saturday's event a success.