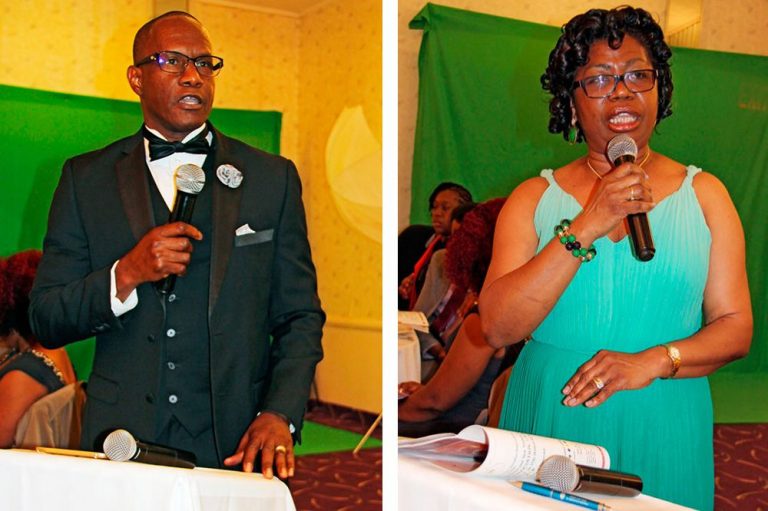 SVG Ex-Police Association in Brooklyn continues to grow
After 37 years of service, the Brooklyn-based St Vincent and the Grenadines Ex-Police Association continues to "stand unwaveringly on the foundation laid down by its founding fathers", asserts president Arden Tannis.
"They were men who adhered to a creed while they were serving members of the Royal St Vincent and the Grenadines Police Force, 'One for All and All for One',"Tannis said, while addressing the 37th Anniversary Fund-raising Gala and Awards Ceremony, Saturday at Glen Terrace on Avenue N in Brooklyn.
"It was this belief that pushed them to act, resulting in the formation of this organization," he added. "Their coining and use of our tagline, 'Staying together to Serve', have served the organization well. It has been the secret of our longevity.
"As the SVG Ex-Police Association continues to grow, so too will our commitment to serve our members and our community, both in our motherland and here in the diaspora."
Tannis, now in his second consecutive year as president, stated that the group would, among other things, continue to increase its donation of supplies and equipment to needy institutions in St Vincent and the Grenadines, render aid to ex-police officers and their families in times of distress, provide additional aid towards the education of youth, and extend visits and contributions of toiletries and other personal effects to nursing homes and the sick and shut-ins in the homeland.
The association comprises former members of the Royal St Vincent and the Grenadines Police Force, and was founded in August 1978 in Brooklyn.
According to its commemorative journal, the objectives of the group are to unite former police officers who reside in the United States, particularly in New York, and engage them in fund-raising initiatives, thus allowing them to provide assistance to other ex-police officers during unforeseen emergencies.
The decision to form the association was propelled the tragic death of Alpheaus Diamond, a 36-year-old police sergeant of the Royal St Vincent Police Force.
While on vacation in Brooklyn, Diamond, in attempting to escape a fire in the home where he stayed, jumped from a window and sustained injuries, from which he later died.
When returning Diamond's body to St Vincent and the Grenadines for burial became a financial burden for his family, ex-police officers in New York "got together and pooled their resources to provide the necessary funds to have his body transported", the journal states.
Despite occasional difficulties, the association "continues to create a positive impact here in New York and at home," the journal adds.
In saluting the group, the Consulate of St Vincent and the Grenadines to the United States noted its "longevity as an organization that functions in the diaspora to benefit police and police organizations in the homeland."
"Who would have thought that the actions of a handful of ex-police officers 37 years ago, who, by pooling resources to repatriate the remains of a fallen colleague, Sergeant Alpheus Diamond, would result in the formation and sustaining of such a vibrant organization?" said Consul General Howie Prince. "Clearly, yours is a master tale of determination, strength of character and perseverance."