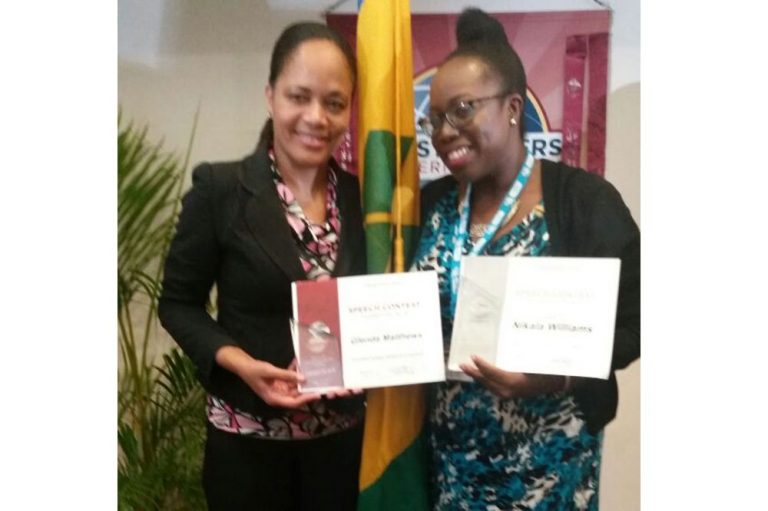 SVG Toastmasters flowing at speech contest in Barbados
VINCENTIANS won top prizes and hearts at the 2017 Caribbean Toastmasters speech contests in Barbados, on Saturday, May 20, when the District 81 (the Caribbean) of Toastmasters International held their conference at the Accra Beach Hotel, from Friday, May 19 to May 21.
For the first time ever, both the Toastmasters competing in the International and Table Topics Speech Contests placed among the top three. Glenda Matthews, assistant manager at Coreas Pharmacy/Food Xpress in Kingstown, placed 3rd in the International Speech segment, out of 14 contestants from throughout the region. Nikala Williams, Marketing and Communications lead for FLOW in St Vincent and the Grenadines (SVG), placed second out of 13 contestants in the Table Topics Speech contest.
Glenda and Nikala are both toastmasters of the Achievers Toastmasters Club – the first of its kind, which has been in existence since 2006.
The topic of Matthews' five-minute, thought-provoking prepared speech was "Can I Have One Of Your Money?" Williams' stellar performance was a two-minute impromptu speech, which brought the audience to their feet. The topic chosen by the contest chairperson was "What would you do if there was no judgement?"
First place winner of the International speech contest was Akeem Bacchus of Jamaica and in second place was Tasha Browne from Guyana. For the Table Topics (impromptu) speech contest, Jeffrey Azan of Jamaica placed first, while Finley Joseph from the Cayman Islands placed third.
Apart from the speech contests, superb educational workshops made up the majority of the weekend for members and non-members alike. A total of 10 toastmasters from SVG took part in the conference this year.
Toastmasters International is the top worldwide non-profit educational organization. Over 345,000 members improve their communication, public speaking and leadership skills by attending one of the 15,900 clubs in 142 countries that make up the global network. There are currently six clubs throughout St Vincent and the Grenadines. By regularly giving speeches, giving and gaining feedback, leading teams and guiding others to achieve their goals in a supportive atmosphere, leaders emerge from the Toastmasters programme.
Any questions about Toastmasters, visit www.toastmasters.org or call the SVG Area Directors Arlette Miller: 784-493-4746 or Gloria Williams: 784-528-9000.