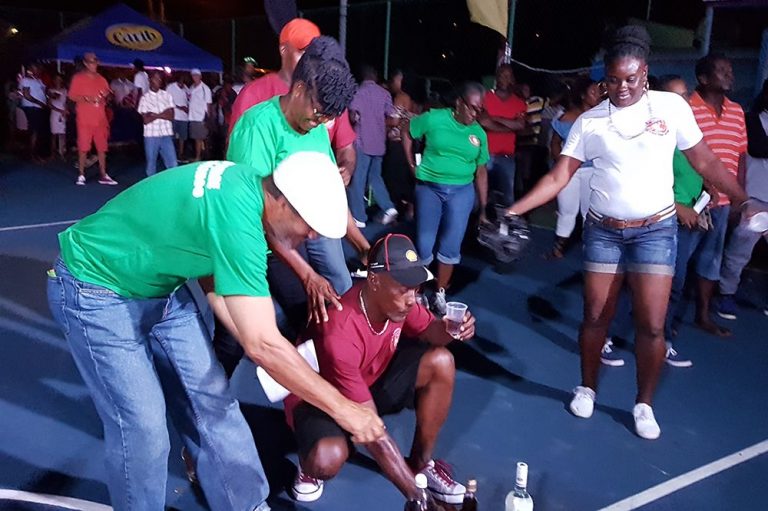 Upstage Xperience launches 2017 calypso season
Lovers of Calypso were treated to a free show over the weekend, as the Upstage Xperience launched its 2017 tent season.
With a line-up of 23 calypsonians, persons who came to Calliaqua hard court on Saturday, had a taste of what to expect for the 2017 calypso season.
One of the crowd's favourites, Lornette "Fire Empress" Nedd, had everyone shocked when she revealed, in the last verse of her calypso 'Guilty', that the persona captured in her song, had caught her husband in bed with another man.
"Imagine the same pose I give to he, he playing woman imitating me," she sang to thunderous laughs and applause.
Nedd was even asked for an encore of her performance. Another crowd favourite, Joanna Christopher. not only captivated the audience with her lusty singing, but with the timely message of the effect that politics has on friends as well. Sedron "Seddie" Hackshaw, while singing his calypso "No Butt", kept everyone entertained with his dancing, as he sang that he would take everything from a woman, except for "butt". Speaking at the launch, chair of the Carnival Development Corporation (CDC) Ricky Adams said that it was a wonderful experience to attend a rural carnival and see a full-fledged calypso tent performing."What we want to do at CDC is to ensure that the rural carnivals in the future becomes the feeder systems into our national carnival… to the extent that we can take the rural carnivals and partner them with the calypso tents and perhaps introduce partnership with the queen shows. We can ensure when we get to the national carnival everybody is representing a zone or a community in carnival."
Adams added that the CDC is ready to lend support to the efforts of the rural carnivals that want to partner with the calypso tents and queen shows. Minister of Culture Cecil 'Ces' McKie said that the night's turnout was a clear indication that Vincentians are ready for Vincy Mas. McKie said that he has been seeing mas tents, steel orchestras, calypsonians and soca artistes readying themselves for carnival.
"I think that all the trappings are there for us to have an outstanding Vincy Mas 2017," the Culture Minister said.
Also addressing Saturday's launch was area representative Camillo Gonsalves, who described the night's activities as a wonderful event.
"The very first event that we had, even before we called it Plug and Play, was a year ago. We invited the Upstage Xperience to this very location and we had a wonderful show," he said.
Gonsalves said that it was from that first event and other conversations, where they decided to make live, local music a staple in the Calliaqua community and St Vincent and the Grenadines.