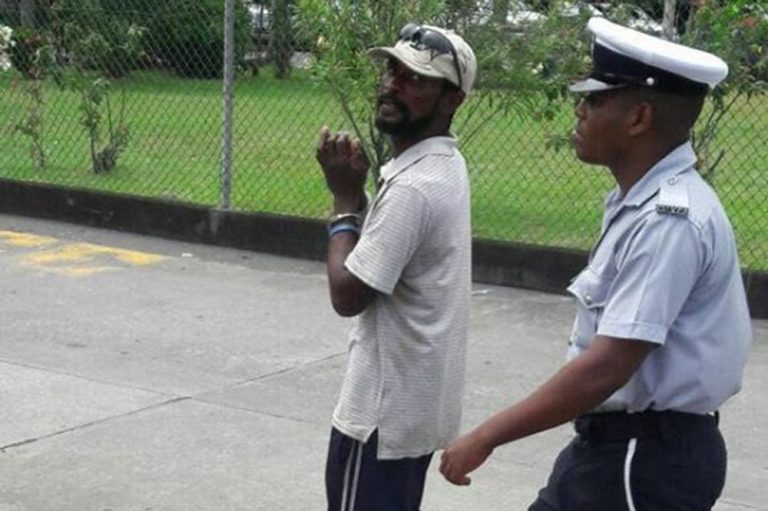 Man detained over unlawful detention allegations
Otis Lockhart, a former St. Maarten Secondary School (SMSS) student from Edinboro/Kingstown Hill is currently being detained here by police under weird circumstances.
Unconfirmed reports are that police are trying to ascertain whether or not Lockhart held his wife and three kids against their will on the Grenadine island of Bequia where they were said to be living in squalor in a tent on a part of the island called St. Hilary.
The family was removed from their condition on Monday and Lockhart detained. He was brought to mainland St. Vincent in handcuffs on Tuesday. The mother and three children were also brought to the mainland by health and police personnel.
Their arrival at the Grenadines wharf was recorded by a civilian with a mobile device and placed on social media platforms.
Lockhart, the son of a former taxi operator here, is said to have purchased a piece of land in Bequia a few years ago and moved his family to the Grenadine island with according to one family member, speaking on condition of anonymity, "the promise of a better life".
Lockhart is said to have migrated to the United States a few years ago where he met his wife, a Connecticut native. They had three kids, all born in the USA, before moving to Bequia.
The same family member said that the mother of the kids, whom he refused to name, have in the past, phoned relatives in the USA for money but the last time some family members heard from her, was about four years ago. Some family members have not heard from the other of three for over eight years.
The relieved family member said that the USA based family is relieved that the woman and the children have been found alive and are now safe.
The Police Public Relations Department said on Tuesday that the police will issue a report after the incident is fully investigated.
Photo below shows Lockhart being escorted by a police officer on Tuesday.