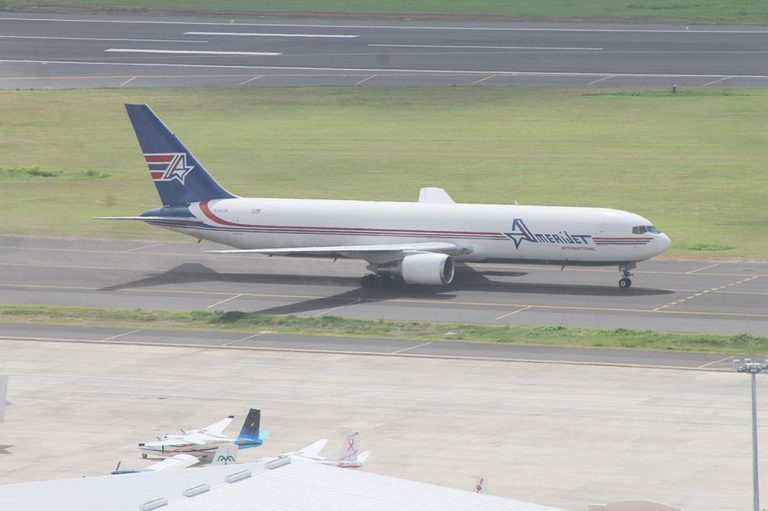 Vincentians' purchasing power increases with arrival of Amerijet 767
The purchasing power of Vincentians increases when the air transport capacity for goods improves.
So said Prime Minister Dr Ralph Gonsalves on Tuesday, during a media briefing at Cabinet Room as he explained the historic landing of an Amerijet 767 flight at the Argyle International Airport (AIA).
Gonsalves said that with this increased capacity of the 767, vendors would have to "up" their game.
"They are competing not only with who is next to them in Middle Street or Back Street, but who is on the other end of the phone," he said.
The Prime Minister explained that the 767 could transport up to 110,000 pounds of cargo, compared to the 55,000 pound capacity of the 727.
"When the 727s were landing at ET Joshua because of the wind factor and the configuration of that airport, the 727 was able only to take three, maximum four, pallets. But, from the time they started to go Argyle, there were 11 and 12 pallets, which would be their capacity," Gonsalves explained.
He further pointed out that when the larger aircraft leaves the AIA with produce from farmers, flights would be direct — no longer overnighting in Trinidad.
"They leave St Vincent, they go to St Lucia by one o' clock they reach Miami this afternoon," he said. "You see what can happen to your fresh fruits and vegetables and if you have the volumes they would go straight from here to Miami."
The Prime Minister noted that before making investments, entrepreneurs look at the availability of direct flights to move their products.
He added that whoever operates Amerijet in St Vincent stands to make more money now.
"Even the existing 727s would be able to leave Argyle with full capacity and now you're talk about the 767, which is twice the capacity of the 727," Gonsalves said.
He informed the media the aircraft would begin making regular stops in St Vincent and the Grenadines from June.