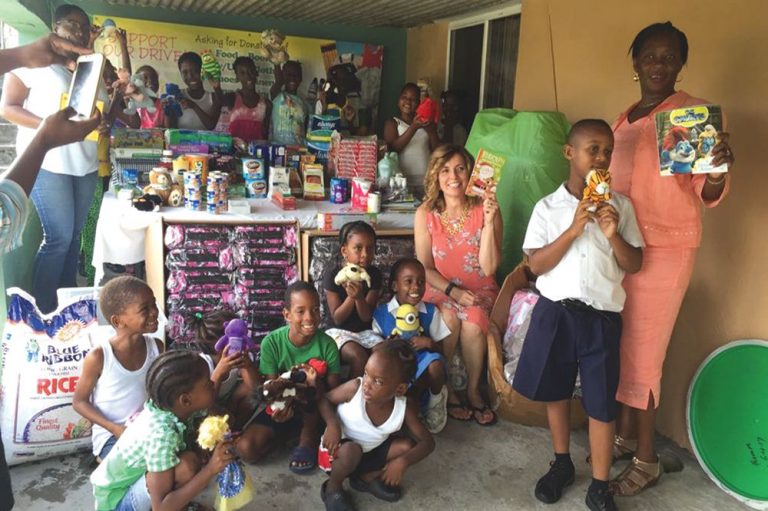 SVG Helping Hands gives back with 33 barrels
Giving back continues to be the watch words of SVG Helping Hands Inc, as they donated 33 barrels to 22 schools, foundations and health facilities throughout the country.
During the last week in April, the San Diego California-based organization, which has been assisting institutions in this country since 2009, also distributed eight pallets, which included 1,170 lunch boxes for schoolchildren.
President of SVG Helping Hands Inc Susan Child-Ellis said that she and her cousins, Sally Regisford-Charleston and Natasha Bullock-Odero, who migrated to the USA as young teens, often saw the generosity of their grandparents Clement and Agatha Gonsalves of Biabou, who were always sharing what they had with everyone.
She explained that today her cousins have networked with the people in the United States to put on fund-raising events to fulfill the wish lists of Vincentians.
"When we were growing up, there was a community of sharing with your neighbours, workers, friends and most of all, the less fortunate. We are very proud to carry on that family tradition which our grandparents passed down to our parents and continues today with SVG Helping Hands Inc. We are honoured to be able to help the people of St Vincent for eight years now. This is in part due to our wonderful family, supporters, donors, sponsors and volunteers. To everyone we say thank you for helping SVG!"
Donations were made to the Stubbs Health Centre, Stubbs Government School, Argyle Pre-School and Argyle Primary School, Biabou Methodist School, New Prospect Primary School (Simon), Greiggs Primary School, St Benedict's Children's Home, Bread of Life, Red Cross, Ladies of Charity, Lewis Punnett Home, Calder Government School, Evesham Methodist School, Marriaqua Government School, Guadalupe Home for Girls, Liberty Lodge Home for Boys, Milton Cato Hospital, Miranda Pre-school, Vinsave and Taraji Foundation.