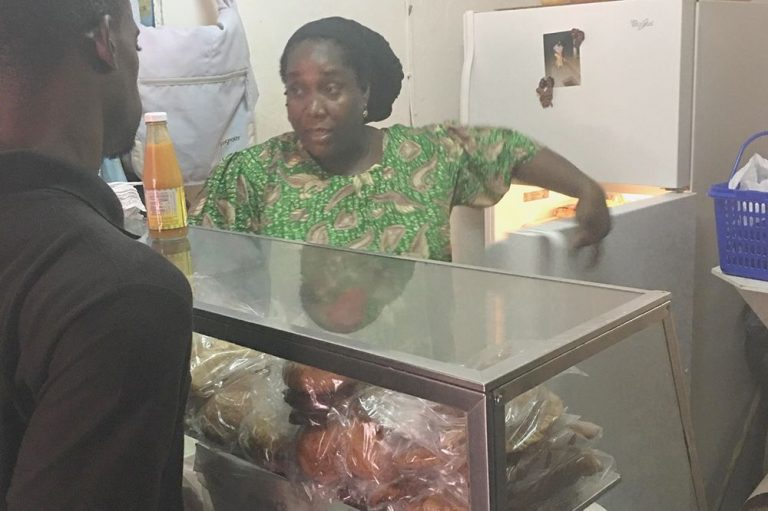 Ideisha expresses her Kuumba at Rastaranch
Motivated by an entrepreneurial spirit, Ideisha Jackson embraced her Rastafarian religion in opening a vegetarian restaurant.
Jackson, 42, of Sion Hill and her boyfriend, Jason Nash, opened Kuumba Rastaranch in lower Middle Street last December 2 to offer alternative healthy eating.
Speaking with SEARCHLIGHT last week, Jackson explained that the name 'Kuumba' is derived from the African tradition and means creativity.
"I've worked for many years in civil society, as well as working as a translator at the International Airport Development Company (IADC), but decide it was time to branch off again and
do something on my own," she further explained.
Jackson, who studied accounting and finance in Cuba, said she was able to express her creativity as her own boss, after she worked as a translator and did art jobs for the private sector and the Government for a number of years.
"So, I started this restaurant with the idea of having an opportunity to express my creativity through food and also to give some alternative food to persons who looking for good quality vegetarian food — so, that was basically the idea to create something that I can have … running that I don't have to depend on somebody else for my employment," she added.
Jackson's restaurant offers vegetarian meals and snacks from Monday to Saturday between 8 a.m. and 6 p.m.
The owner told SEARCHLIGHT that Rastafarian has been her religion for the past 22 years and disclosed that she opened a restaurant in the early 2000s, but had to close it when she went off to study.
Since they reopened last year, Jackson added, they have received a good response from the public, with all their meals being sold out most days.
"But we still always have room for improvement, so we look forward to having some more customers and also expanding the hours of operations so that we could meet more needs."
Jackson said the "Rastaranch" offers a wide variety of meals and their menu changes daily. They, however, offer a vegetarian soup every day.
Their menu includes stewed gluten, stewed chunks, with a side of rice with pasta, while their soup menu includes callaloo, lentils and dry peas.
They also offer dhalpuri, veggie fries, burgers and pizza, as well as sweet pumpkin and carrot bread.
Their juice menu includes passion fruit, tamarind, mauby, and a variety of punches such as peanut, carrot, beet, linseed and seamoss.
Jackson told SEARCHLIGHT that, based on the support of customers, they expect the restaurant to grow.
"We try as much as possible to offer a good meal, a tasty meal, a balanced meal for customers and I hope that we could see the restaurant growing from strength to strength and improving our sales and our profit margin," she added. (AS)