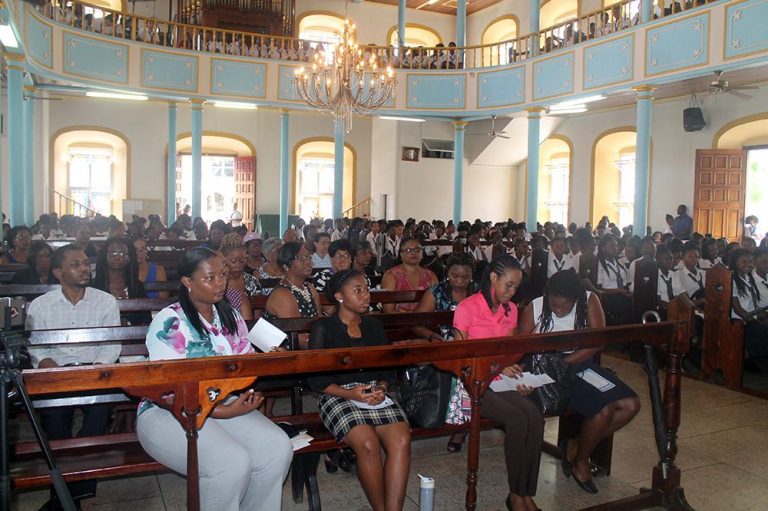 Girls' High School marks 106 years
The Girls' High School (GHS) is now 106 years old and the leaders of the institution have been advised to reflect and plan so that the progress, integrity and standards remain, even as the school adjusts to meet the demands of an ever evolving society.
The words of advice were given by Senior Education Officer Kay Martin-Jack, who represented the the Ministry of Education during the anniversary celebration which was held in the form of a church service at the Methodist Church in Kingstown yesterday, Monday, May 8.
"106 years in successful existence is nothing less than phenomenal," Martin-Jack told the gathering, observing that the words of the school's song "Per Adua Ad Alta" reminds one of the school's commitment to success.
"This milestone offers a wonderful opportunity for the St Vincent Girls High School to celebrate its proud history, fine traditions and contributions it has made on the personal and academic development of thousands of students both past and present."
The educator, describing the 106 anniversary as a "momentous occasion", encouraged the staff at the school to continue playing their role in educating young women and contributing to the development of women in St Vincent and the Grenadines.
Speaking at the ceremony, past student Belinda Samuel shared a message of honouring God and encouraged persons to honour God by honouring themselves.
"The only way that we can get honour is by giving honour to God," said Samuel, while encouraging students to avoid stifling their morals or doing negative things just to fit in.
"When was the last time you told your friend about Jesus, or that your classmate or co-worker felt comfortable coming to you to ask you to pray with them?" Samuel asked, stressing that not everyone knows the Lord on a personal level, but can do so.
Samuel stated that Christians have a duty to introduce Christ to those with whom they interact.
She said that Christians do not have to be aggressive when teaching about Christ, but can teach about Christ by quietly and steadfastly upholding their integrity and maintaining an attitude where they give honour to God.
Samuel noted that persons can also give honour to God by showing love to their fellowmen, through their workmanship and through their interactions with others.
"Be respectful to your elders and/or superiors; we honour the Lord with our decision to abstain from sin and from placing yourself in the way of temptation…we cannot afford to turn away from God, we can't… we are too small," she added.
During the service, deputy headmistress of the school Michelle Beache disclosed that this year would be the last year that headmistress Andrea Bowman would lead the school, ending her 13 years of service to the institution. Bowman was presented with gifts and tokens for her years of service. Beache also congratulated the GHS on achieving such a memorable milestone.
The service saw entertainment from students Ahjea Jackson and Tyra Browne, whose melodic singing brought goose bumps to persons in attendance.
The GHS was founded in 1911 with the first headmistress, Mary Ince, being appointed on May 8, 1911.