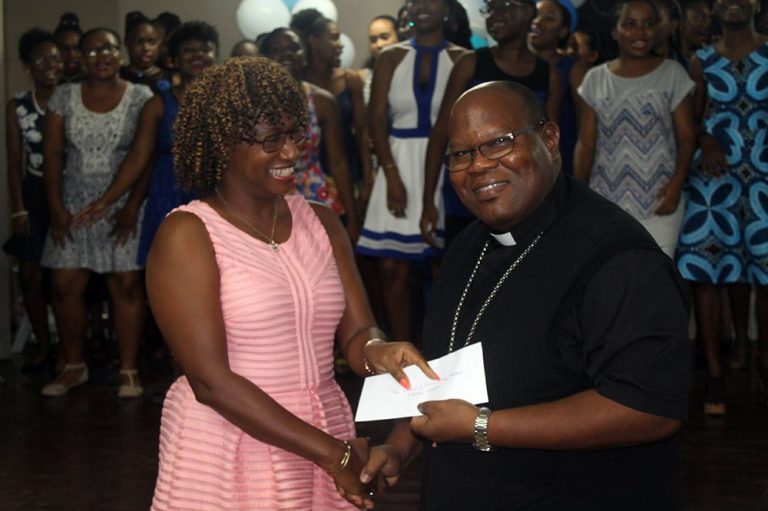 GHSYL surpasses 'Finding 52' goal
The Girls' High School (GHS) 2017 Young Leaders surpassed their goal of 'Finding 52' persons to donate $400 towards providing meals for the Fishes and Loaves Soup Kitchen every Sunday for a year, and instead found 75 persons, amassing a total of $30,000 in donations.
During the presentation of the Projects and Awards ceremony at the school on Sunday, the young leaders acknowledged all the donors for the 'Finding 52' campaign.
The president of the 2017 Young Leaders Nneka McMillian told the audience that each of the projects has a special place in the hearts of all the participants.
McMillian stated that while that some cheques for the 'Finding 52' campaign came in readily, others came in slowly, but surely.
The young leaders' president said that projects like the 'Clean Coutts Creative Cognition' gave the girls a sense of meaningful contribution.
"Glass-breaking and wall-breaking were the most enjoyable things for many of the girls, as they claimed they felt a sense of accomplishment and that they had made a meaningful contribution to the development of our school."
She said that the 'Read Roam Restore' project, while stressful at first, saw their idea being realized with over 250 books being purchased.
McMillan stated for the 'Know your BP, get your GP' project, they ventured out into several communities offering free blood pressure and glucose tests, as well fruit bowls.
"In some communities we did 31 persons, while in others we did 20. But, combined, the health practitioners did over 100 persons," the ecstatic young leader said.
She stated that the project was so successful that the staff at the school requested that they get their tests done.
McMillan said that their biggest project, the 'Mortar Makeover' holds a precious place in all of their heart.
"We are honoured and humbled to have helped the resident of Frenches update her living conditions and assist in improving her comfort."
She said while the work was strenuous and messy work, the end result shocked and pleased everyone on board.
Other projects included the PositiviTEA with the elderly, Vacation Bible School, Revive the life Campaign, Voices of Change, V campaign, river clean-up project and expansion of vegetable garden at VINSAVE.
Featured speaker Governor General Sir Fredrick Ballantyne told the girls he was impressed by the projects and it reassures him that the country is in good hands.
Ballantyne stated that he recently read an article, which stated that the happiest people are volunteers, adding that the rewards from volunteerism are endless.
"There is the immediate reward, that kind of good feeling…something happens when you volunteer that releases your feel good hormones. But, the long-term rewards are really endless and immeasurable," he said.
Ballantyne noted that one never knows how one could impact a person's life with the smallest gesture.
He recalled that during his A Levels, he was in need of some books, which weren't readily available.
Ballantyne said that he was told of someone who had the books and when he asked to purchase the books from the young man, he was given them free of charge.
"I was just impressed by the fact that he didn't know me and he was kind enough give me his books," he stated.
The Governor General added that the young man had previously failed his exams and he offered to study with him to take the exams.
He noted that young man went on to attend Yale University and Stanford, some of the top universities in the world.
Ballantyne stated that all of us belong to society and humanity and those who are luckier and more privileged have a responsibility to take care of others.
"Once you consider yourself a part of this great humanity and you are privileged, then you have a responsibility to take care of those less privileged."
He recalled another story when he was a medical student and was asked by the head of paediatrics to volunteer in a migrant camp in New York.
"I left there with my whole life changed, knowing that the future of my life is to make things better for people like this."
Ballantyne told the students that while they have fed 150 homeless persons, there are still 150 more out there to be fed.
"My challenge to Mrs Bowman and her group and all you people, is that you continue this project for a few years… you certainly have the power the to do it."
He said, while one of the greatest hindrances would be finance, he was sure that they would be able to get the financing for the project.
Several persons were also awarded for excellent voluntary work by the young leaders.
Awardees were: Tamira Browne, Lennox Bowman, Michael 'Mercy' Ollivierre, Ian Sardine, Jankie Glass, David 'Darkie' Williams, Jan Ferdinand, Vendora Waldron, Bridget Bowens and Jennifer Williams.