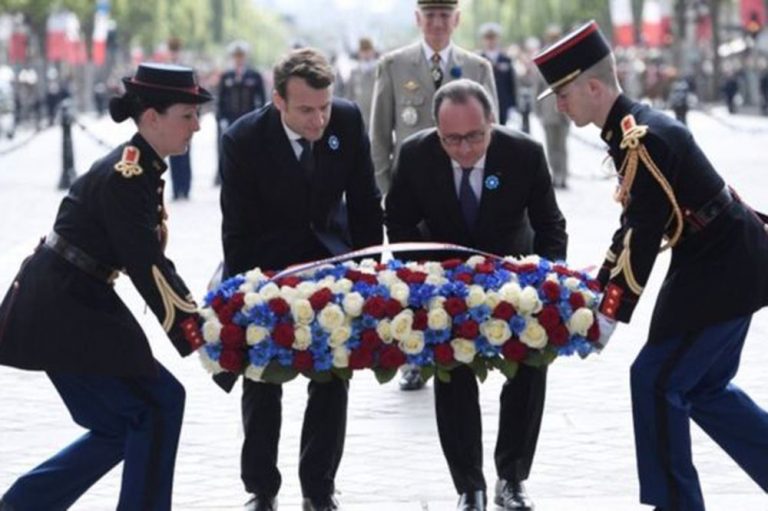 Emmanuel Macron: Tough task ahead after victory in France
Emmanuel Macron took his first steps as France's president-elect on Monday, but faces a tough task establishing a team that can govern effectively.
His party has announced it is changing its name from En Marche to Republique En Marche (Republic on the Move).
It must pick candidates quickly ahead of parliamentary elections on 11 and 18 June. It wants to be the biggest party, but at the moment has no seats at all.
Mr Macron beat the far right's Marine Le Pen by 66.1 per cent to 33.9 per cent on Sunday.
But a low turnout and a large number of spoiled or blank votes showed disillusionment among many, particularly on the far left, at the choice they were given.
Ms Le Pen has also signalled there will be a change to her National Front party. There are suggestions from its officials, too, that it will change its name. But she has vowed to lead the "new force" into the parliamentary elections.
First day as president-elect, by the BBC's James Reynolds, Paris
Emmanuel Macron inherits one of the most powerful positions in Europe, and all the symbolism that comes with it.
This morning at the Arc de Triomphe, he showed no sign of being awed by his new job.
He walked alongside the outgoing president, François Hollande, as the two laid a wreath at the Tomb of the Unknown Soldier.
They then shook hands with veterans. Mr Macron appeared to take longer to make his way through one receiving line, stopping to talk to elderly men, leaving Mr Hollande to wait for him at the end.
Emmanuel Macron now becomes France's youngest leader since Napoleon Bonaparte, whose battles are commemorated at the Arc de Triomphe. The new president will hope that his own fights are less bloody.
How difficult could it be for Mr Macron to govern?
He faces two main problems – a complete lack of representation in parliament and a deeply divided country. Apart from being, at 39, the country's youngest president, he is also the first from outside the two main parties since the founding of the modern republic in 1958.
Although he won support, sometimes grudgingly, from the established Socialists and Republicans, much of it stemmed from the need to beat Ms Le Pen. The conservative Republicans in particular will be looking for a strong showing in the parliamentary polls. (BBC)