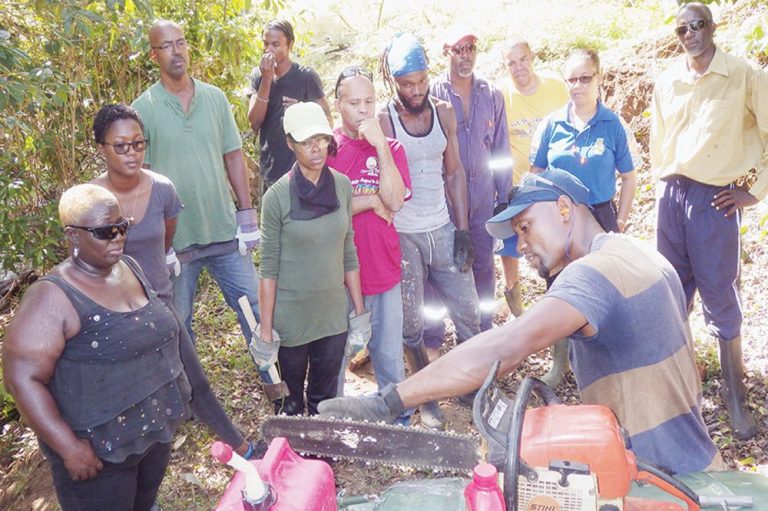 SVGFR receive road clearance training
by Donald De Riggs
A team of 12 women and men, members of the soon-to-be-launched SVG First Responder (SVGFR) group, journeyed to Layou to get first-hand experience on how to clear minor road blockages, using heavy equipment.
Team leader and president of the SVGFR Arthur De Shong and main resource person Lawson Bonadie led the team of volunteers to a feeder road which had been blocked by a landslide some time ago and which was never cleared, making it impassible for vehicular traffic. The main task was to first cut the trees that came down with the slide, then grade the earth to enable vehicles to pass. This was also done at two other locations along the same road, opening up access to approximately another mile of motorable road.
Before cutting the trees into manageable chunks, volunteers were taught how to use the axe and chain saw. The instructor for this aspect of the training was Lawson Bonadie, who outlined the safety features in using a chain saw, as well as starting and stopping the machine. All volunteers were given the opportunity to use the equipment, most of them for the very first time.
Following the clearing exercise, the team drove to the 'end of the trail,' where they all gathered for a debriefing; those who contributed to the day's success were commended and areas for improvement looked at.
The SVGFR group will be formally launched on May 6, at SOV, after a week of activities which began on Sunday, April 30; a fitness and awareness walk on May 1; a series of radio talk shows and school visits, leading up to the launch on Saturday.
The next major training event will be a ham radio training course at SOV from May 15 – 19, where volunteers will receive formal training leading up to a Technician Class amateur radio licence. Wireless communications is critical in the aftermath of a disaster, especially when the phone service is down.
President De Shong thanked all volunteers who turned up for the training, as well as Michel and Marcus Martin for providing snacks for the volunteers following the training exercise.
Following the launch, SVGFR will become an active member of NEMO's volunteer sub-committee, as its work must be in harmony and in keeping with NEMO's role in both pre and post disaster scenarios.