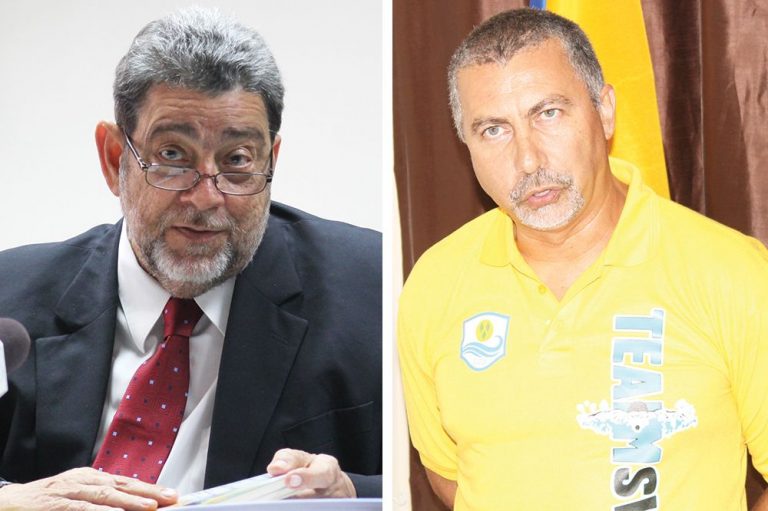 Joachim goes off air after spat with PM
Financial Controller of the Mustique Company Limited Stephen Joachim, a regular contributor to Dwight "Bing" Joseph's "OMG in the Morning" radio programme, will no longer use that platform to voice his opinion.
Joachim's decision to stay away from the interactive radio programme, which is aired on BOOM SVG 106.9 FM, came last Tuesday after Prime Minister Dr Ralph Gonsalves rigorously combated (with questions of his own) questions Joachim asked in relation to Government's accountability on the Argyle International Airport (AIA) project.
Joachim, speaking on BOOM on Tuesday, April 25, and in response to the question of accountability which was raised by Opposition Leader Dr Godwin Friday last week, said that taxpayers are entitled to ask certain questions and government officials, no matter from which party, should be held accountable for the spending of taxpayers' money.
"…this is why we have audits," stressed Joachim. "The airport started in 2008 and it is now eight or nine years later and we haven't had one single audited financial statement, and there isn't any excuse for that and the Prime Minister should be apologizing sincerely to the country and saying 'guys some terrible things have obviously gone on here why we can't produce audited financials'," Joachim said live on air in his usual frank fashion.
He went on, "It is ridiculous…the reality is, taxpayers' money are involved. Don't tell me the cost, I want to see an audited statement and I would like the audit to be done by a reputable accounting firm, not a political crony or hack. I suspect we are never going to see one, because I don't know how we going to get records from eight years ago".
In his statement, Joachim opined that building the AIA, almost bankrupted the country and taxpayers still do not know the true figures.
"The figures that are being said make no sense," Joachim commented, adding that in his opinion, when taxpayers' money are used for government projects and things go wrong, nobody is held accountable.
Joachim went on to state that he thinks that not even the PM knows how much it cost to build the airport.
"Where are the audited, as a matter of fact, where are the un-audited financial statements? No matter what party you support, it is only right to ask for the audited statements. All governments should be held accountable, no matter what," Joachim quipped before signing off.
But in response, PM Gonsalves, calling minutes after Joachim had made his comments, took the Mustique Company financial controller to task with a few abrasive questions relating to the company at which Joachim controls the finances.
The PM said that he would have preferred to engage Joachim one on one, but since he had left, he would say what he called to say.
Gonsalves stressed that the questions posed by Joachim and Dr Friday before him, were answered extensively on various radio stations.
He said that the audited financial statements of the AIA, up to 2013, were available at the Commerce and Intellectual Property Office (CIPO), while the AIA's financial statements from 2014 and 2015 are being finalized by Floyd Patterson's firm, BDO Eastern Caribbean.
"It is difficult to have to repeat the same points over and over, but it seems as though truth does not have any legs when it comes to some people. We have established systems of accountability and transparency," said the Gonsalves, who noted that our numbers, as it relates to transparency globally are very good.
"I don't know if Stephen has any residual antipathy to the airport, the point is this, if you look at the statutory bodies where we are required by law to provide statements, that is done. If he said they were not audited, that is not true," said Gonsalves, who noted that Patterson is working on the audited statements for 2014 and 2015 (currently in draft), after which he will work with the International Airport Development Company's (IADC) financial controller to finalize the audit.
The PM stressed that the audited statements up to 2013 have been sent to CIPO and that has been confirmed by the IADC's chief executive officer (CEO) Dr Rudy Matthias.
"I don't understand the attack," said Gonsalves, who described the statement made by Joachim that the AIA may have bankrupted the country as untrue.
The PM said that a lot of the money that came to the country through grants and soft loans came only because of the AIA and would not have come otherwise. He said that US$20 million in grants came from the Taiwanese and also US$35 million in soft loans, "and that is because those sums are only for a project as big as that one; the accounts are available.
"…the $10 million grant from Trinidad… I want Stephen to tell me… If you build an airport and in excess of a billion dollars is the cost, but $700 million was spent and what is owing is about EC$400 million, I would have thought that Stephen would say that is a damn good deal," said the PM, before adding, "What I want Stephen to do is to make sure, as financial controller of the Mustique Company, that he makes sure that whatever is due to us always comes to us.
"I am not talking about direct monies from the Mustique Company, you know…," said PM Gonsalves, at which host Joseph asked, "What are you talking about?" The prime minister replied, "You must ask him (Joachim)".
The PM went on, "…we have, for instance, when commissions are paid overseas to John Browne, Frank Jones, Bing Joseph, I'm (just) calling names… he, as financial controller, has to make sure that if $10 is paid in commission, 20 per cent of it comes to the comptroller of inland revenue as withholding tax… I am also saying that when, let's say, a lawyer, Ephraim Thompson, from overseas, works on any matter in relation to the Mustique land transactions with the Mustique Company, that the Mustique Company, through the financial controller, must get the withholding tax in respect of that fee that is paid to that lawyer, because it is relating to a transaction happening in SVG and particularly in relation to land".
Gonsalves added, "I want to ask him, if a house costs $40 million and the contents and it is being sold, is there a division 75 per cent to realty, that is to say the real property, that is to say the building and the land and 25 per cent to personal, that is to say stove, fridge and so forth? Does that arbitrary division take place and is that accurate?" asked the PM in a suggestive tone.
He added… "because, you see, if a house is sold for $40 million in Mustique and we get the transfer tax and the alien land holding licence only on $30 million, but the personality is estimated at $10 million and therefore attracts no stamp duty or alien land holding licence does that happen at all? As a patriot working in the Mustique Company, he makes sure that all those things are in order?"
The Prime Minister commented further, "You see, when you come to talk about money and the fiscal situation of the Government, you have also to talk about… you have to bear in mind other people would talk about other things and raise questions. You can't get a free pass once you enter the dialogue with me… I am raising questions and Stephen is a very diligent man. I'm asking those questions in public, like how he asked questions about a matter".
The PM noted that the law says that you must put on the deed what the property is sold for and the market value, but sometimes, the people who value the properties for the Government may say the property looks like it is worth $30 million, but that valuation may be wrong, because they may not be up to date with the Mustique value for property, as Mustique properties are "a unique set of properties".
"…they may accept it, but the value may be more. Stephen Joachim is the financial controller of the Mustique Company, so I am asking if he so interested as a patriot in the welfare of SVG and the financial situation, does he ensure that all those things in order? He has answers for those, and he would probably say yes, but all I want to show is that there are always questions and I am glad that questions are being asked so all of us can ask questions", said the PM, who also revealed that the Mustique Company Agreement is coming up for renewal and usually starts two years before its renewal date.
The PM said that he has a good relationship with the Mustique Company and anytime he raises questions, the questions are addressed. He noted also that the Mustique Company is a good contributor to the economy.
"This is morning for questions to be asked. Once you ask questions of me and you enter the debate I would ask questions of you to. I am fed up with distortions that come in the form of questions", said the PM who wondered, if Joachim, whom he described as an intelligent person, "only listen to himself" and is "not interested in the facts," as he (PM) had already answered all the questions that Joachim asked.
"It upsets me, for an intelligent man to be talking such crap," said the PM, who added that it was a cheap shot, based on no evidence, to say the AIA has driven the country to bankruptcy.
After the PM's questions on Tuesday, Joseph said that he received a WhatsApp message from Joachim, stating that he was taking a break from the radio.
According to Joseph, Joachim's message read, "The company creates a lot of jobs and needs to have good relationships with the Government regardless of which party is in power. I cannot damage the company I work for and put at risk hundreds of people's jobs.
"It's really sad that I must be shut up… apparently asking for accountability is an issue. I never once attacked Ralph on a personal level, apparently, I must be shut up at all cost."
Joachim's and Gonsalves' discourse spurred several reactions from persons listening to the programme.