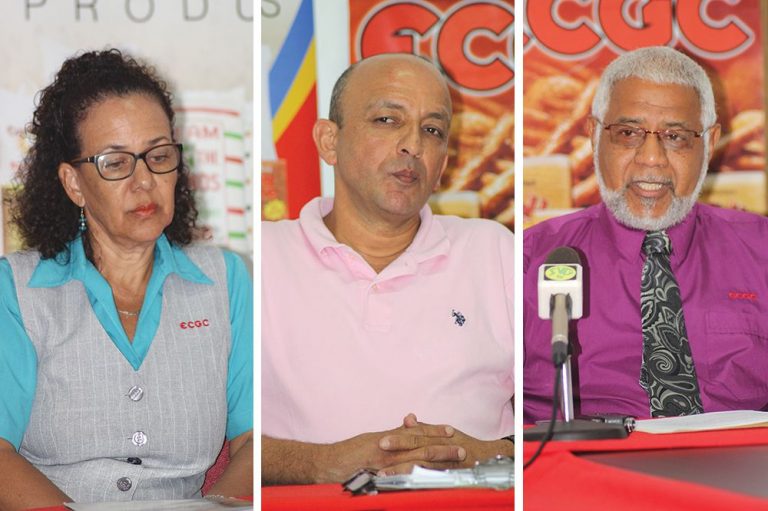 ECGC, Mustique Company revamp ECGC baking competition
Ten local bakers and their assistants will this year journey to the island of Mustique, where they will take part in the 2017 edition of the East Caribbean Group of Companies (ECGC) baking competition.
This year, ECGC has teamed up with the Mustique Company Limited and as a result, the competition has been revamped and given a name change, "The ECGC 40th Anniversary Great Mustique Bake-off Competition".
On Monday, during the media launch of the competition, which was held at the ECGC's compound in Campden Park, marketing manager at ECGC Rachel Haslam said that ECGC will soon mark their 40th anniversary and as a result, they have decided to take a break from tradition and make the baking competition an invitational event, with competitors from mainland and Mustique.
This year, 10 bakers will compete in the two-day event on May 20 and 21 at the Mustique Community Centre, and they will, for the first time ever, have time constraints.
"Two years ago, ECGC co-sponsored a cake challenge in St Lucia and from that, the organizers created a three-part televised series. It was highly successful and it was one worthy of emulation and I think that really was when the seed was planted to create similar events here for the bakers in St Vincent and the Grenadines," said Haslam, explaining where the idea for the 2017 competition came from.
She added, "We wanted to create a more competitive atmosphere where everyone was baking in the same location, under time conditions".
She said that in the past annual competitions, persons would just bring the finished items to be judged on the day of the finals.
"…So there is definitely going to be a lot more pressure on the bakers to perform and I am very positive that they will rise to the occasion," said Haslam.
Competing this year are Janine John (2012 winner), Zoe Millington (2013 and 2015 winner), Jessica Bess (2014 winner), Joanne Layne (2016 winner), Sabrina Marks-Dasent, Keithlyn Williams, Tecla Lee, Sean Johnson, Savrin Samuel and Ronnie Browne.
Haslam said that the ECGC picked the category and overall winners from the last five years to take part in this year's competition.
The event will be videotaped and a three-part series created to be televised in June.
Haslam said that this year, the ECGC is celebrating its 40th anniversary and the competition is part of this celebration.
"Anniversaries are wonderful things, especially significant ones such as this. It gives us a licence to do things differently, a little more elaborately, as we celebrate with the various sectors that have helped us enjoy this longevity and in this instance, we are celebrating with the baking sector," said Haslam.
"We have also developed a tradition of showcasing the winning products in the ECGC calendar and to commemorate the 40th anniversary this year, we also broke with tradition by including a recipe from a baker in each of the islands that we serve and it has been well received," noted Haslam.
Also present at the media launch was chief executive officer of ECGC Osmond "Ozzie" Davy and Mustique Company representative Ali Medjahead of the Sweetie Pie Bakery.
Davy said that he has always considered baking a very noble profession.
He urged the competitors to do their best, as the competition is providing an avenue where their skills will be exposed not only locally and regionally, but globally, because of the location of the competition.
Medjahead, a veteran baker with 35 years' experience, said that he has been a consultant for ECGC for the last 15 years and the company continues to give local bakers and pastry chefs an avenue to show off their skills.