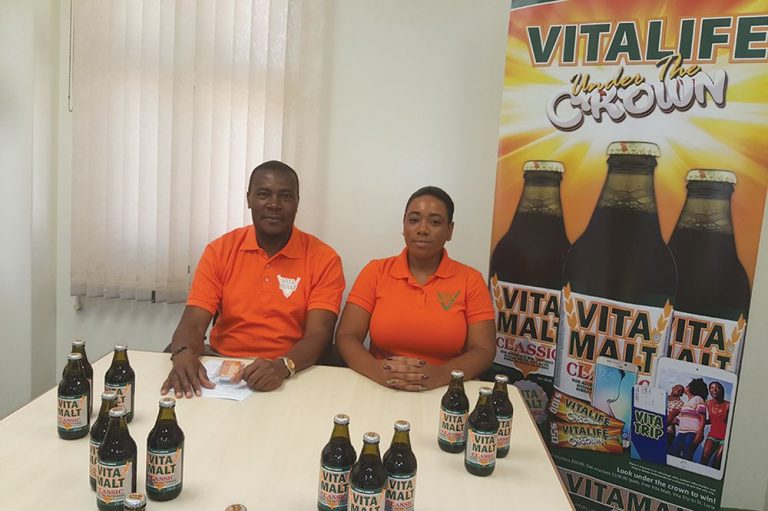 SVG Brewery launches new Vitamalt promotion
Just by drinking a Vitamalt and looking under the crown, you may win yourself great prizes.
This, as the St Vincent Brewery Limited on Tuesday launched their "VitaLife Under the Crown" promotion at the Brewery's conference room at Campden Park.
It is the first consumer oriented promotion for the year under the Vitamalt brand.
The promotion is two-fold in that there are instant prizes to be won by looking under the crown — free Vitamalt, Samsung smartphones, iPads and gas vouchers ($50 and $100), but the main prize is an all-expense paid weekend trip for two to St Lucia.
To win the trip, consumers have to enter the sweepstake draw by simply placing five "Vita Trip" crown corks in an envelope with their contact details and drop it in one of the collection boxes set up nationwide. There is no limit as to the amount of entries one person can submit.
"Our focus this year is to build the brand by engaging and rewarding our consumers. Vita Malt is the leading malt brand in St Vincent and the Grenadines and to bolster our sales and consumer experience we have crafted this campaign sorely with the consumer in mind," said marketing coordinator at the Brewery Kelvin Franklyn.
He added, "We also have extended the promotion to further engage our consumers. Every week the Vita Malt team on random days will visit participating supermarkets and conduct a Vita Malt Ring-off. How this works is once a shopper has a four-pack of Vita Malt in their basket or trolley, Vita Malt will pay for the entire shopping.
"The promotion is geared to all our consumers as we seek to reward them while enjoying their favorite malt beverage. This is a true demonstration of our tagline; Vita Malt takes Care of You."
Under the crown prizes are redeemable at the St Vincent Brewery Limited, while free Vitamalt can also be collected from any of the Brewery's sales trucks.
The promotion ends on Tuesday, May 9.