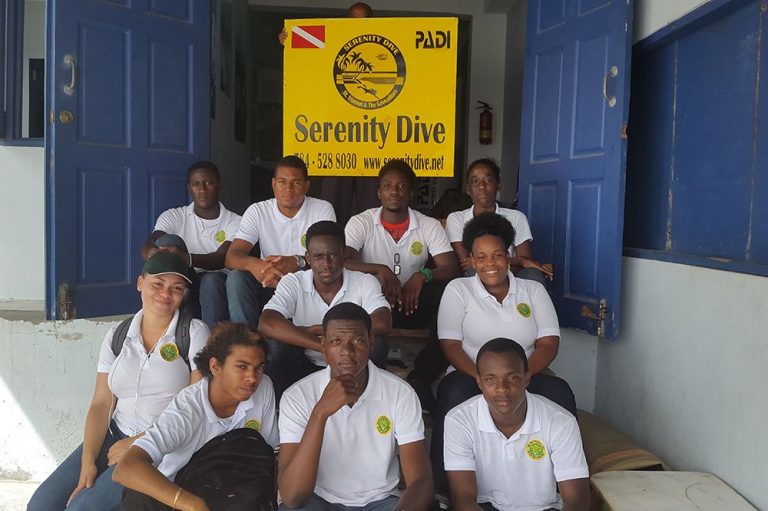 Serenity introduces students to scuba diving
Twenty-five students of the St Vincent and the Grenadines Community College (SVGCC) have so far signed up to see if they have what it takes to pursue a career as a scuba diver.
The students are part of an awareness programme being conducted by the Serenity Dive Centre under the concept "DIVING – Another way of life," which seeks to introduce senior secondary and college students to scuba diving.
Vaughn Martin, president of Serenity Dive Inc, told SEARCHLIGHT that students in that age group were chosen because at that stage, youngsters are still trying to figure out what they really want to do in life and introducing them to diving would expand their possibilities for education.
"The opportunities for divers around the world are vast, from simply being a recreational diver that helps maintain the reefs, a dive master or instructor who is demanded by resorts all over the world, or even going further as becoming a commercial diver," Martin said.
He disclosed that as a Vincentian, he was exposed to scuba diving in his latter years as a hobby, but as he developed as a diver, he realized that he had finally found something that he had a passion for.
"Through the years I have worked with different dive centres and now I own and operate my own dive company, Serenity Dive Inc, which is one of the most diverse dive operations in St Vincent and the Grenadines."
Martin said he plans to include youths from across the country in his programme, but with the dive centre being located at Calliaqua, in the proposed South Coast Marine Managed Area, lectures began on March 3 at the SVGCC, and as a result, 25 students have registered to take part.
Martin expressed thanks to Canash Beach Apartments, Mariners Hotel, S G DeFreitas and SOL who have so far come on as sponsors of the programme.
Serenity Dive has been awarded Trip Advisor's 2016 Award of Excellence, as well as the St Vincent and the Grenadines Hotel and Tourism Association's 'Dive Operator of the Year' award for 2016.