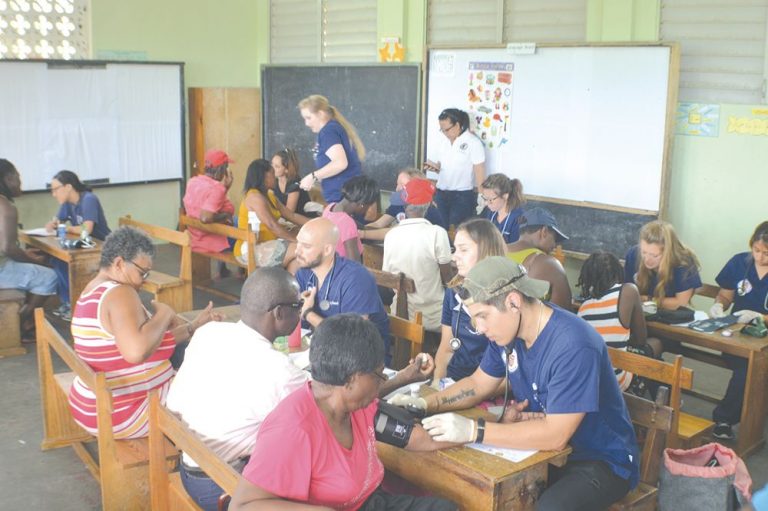 Richland Park residents benefit from Rotary Village Doctor outreach programme
Volunteerism is alive and well in SVG! This was ably demonstrated by Rotary Club of St Vincent, the Rotaract Club of Kingstown, and Trinity School of Medicine at the latest ROTARY VILLAGE DOCTOR outreach programme.
Rotary Village Doctor was held at Richland Park on Sunday, April 2, where more than 200 members of the Richland Park community were seen by eight specialists in most areas of medicine, including dentistry, ophthalmology, pediatrics, ENT, gynecology, internal medicine, psychiatry and general surgery. The clinics were well supported by volunteer pharmacists, led by Frankie Mofford, and the medical supplies were once again provided through the generosity of OSV Group Inc.
On arrival, patients received a friendly medical interview from volunteer medical students, helping the patients to learn which doctor they needed to see. Many patients needed to see more than one medical specialist; therefore, the Richland Park Clinic and Government School were busy with a constant flow of patients eager for consultation and treatment from the large variety of volunteer doctors.
The huge value of this Rotary service was proved when a stroke patient was brought in. Rapid examination resulted in immediate ambulance transfer to Milton Cato Memorial Hospital for emergency care.
Rotarians, led by energetic president, Joel Toney, were constantly circulating to assist everyone. A large team from the Rotaract Club of Kingstown worked cheerfully and tirelessly through the busy day to ensure that the many patients were facilitated.
The volunteer team was well supported by the clinics staff nurse and District Medical team, as well as the primary school's principal and its custodian.
Rotary Village Doctor outreach clinics have been held in SVG since 1996, and SG DeFreitas & Co Ltd has been the loyal supporter of the project for many years.
The Rotary Club of St Vincent has been providing Community Service throughout SVG since being formed in 1971. The motto of Rotary International is "SERVICE ABOVE SELF"