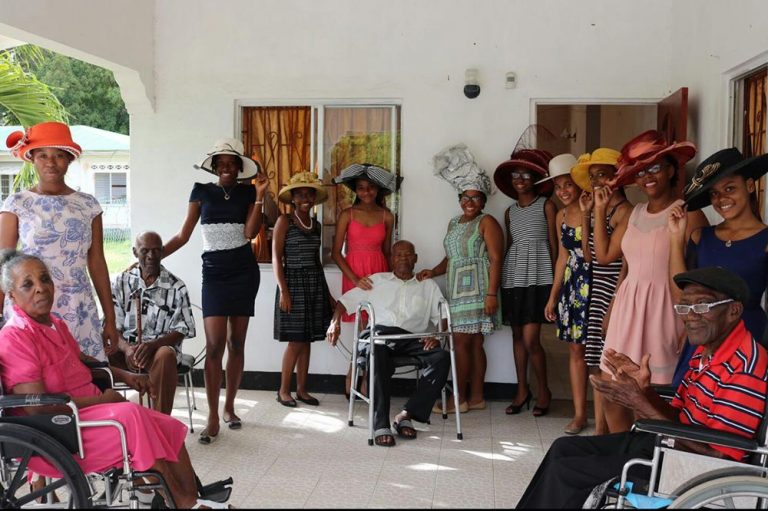 GHS Young Leaders serve up afternoon tea with elderly
On Sunday, April 2, the GHS RBTT Young Leaders 2017 conducted two more of their projects – Breakfast with the Homeless and PositiviTEA with the elderly.
Breakfast was prepared by the girls and served to the homeless by 15 GHS Young Leaders early Sunday morning at Loaves and Fishes, the Catholic Church's Soup Kitchen at Rose Place (Bottom Town). The event commenced with the girls warmly welcoming all in attendance, followed by an interactive devotion session. A documented 83 meals were served from a menu of eggs, Cod fish, sausages, doughboy and fruit, to name a few items, and a choice of tea or coffee. Recipients of the breakfast indicated that it was a great experience. This event concluded at 10:15 a.m.
Later that Sunday, afternoon tea with the elderly took place at the M&A home for the elderly at Arnos Vale, and the Garden of Eden home for the elderly at Dorsetshire Hill. Ten members of the GHS Young Leaders went to the M&A home, bedecked in evening dresses, where they modelled hats to entertain the elderly folk. At both homes, the young ladies kept company with the elderly persons by singing them songs and serving tea and snacks which were prepared by the Young Leaders themselves. The tea time enabled the ladies to communicate with their elders through jokes and the exchange of stories. These events ended between four and five p.m.
The GHS RBTT Young Leaders have displayed their tremendous efforts of volunteerism for the greater reward of impacting the lives of others. Sunday's proceedings were only two from an exciting list of projects that the GHS RBTT Young Leaders have lined up for the upcoming weeks.