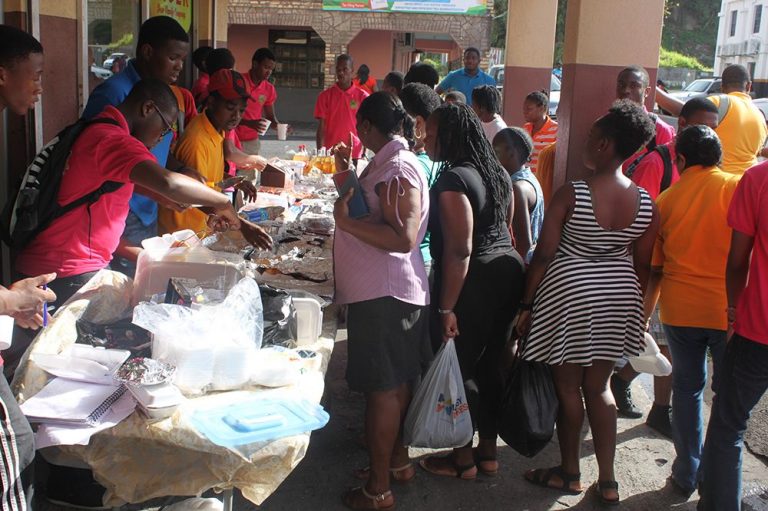 SVGSYL celebrates with day of activities
The SVGS Young Leaders held a day of activities on Saturday, March 25, 2017. These activities included a bake sale under the Singer Gallery and several visits to various institutions for children and the elderly. The aim of these activities was to raise funds and promote volunteerism in St Vincent and the Grenadines.
The bake sale commenced at 7 a.m. with an assortment of appetizers, pastries and desserts – from callalou soup to a wide variety of cakes.
Throughout the course of the day, the Young Leaders also found time to visit the Paediatric Ward at the Milton Cato Memorial Hospital, and to revisit the Thompson and Garden of Eden homes for the elderly, as well as the Liberty Lodge Boys' Training Centre.
Having collaborated with the Jujube Bookstore, which sponsored children's books, the Young Leaders journeyed to the Paediatric Ward at the Milton Cato Memorial Hospital and read interesting stories to some of the children warded there.
At the Thompson Home the Young Leaders danced with residents to music provided by 'El Groupo Amistad'. A past manager of NBC radio, who is now a resident of the home, taught the visitors a thing or two about playing the piano. At the Garden of Eden' the Young Leaders socialized with residents, while at Liberty Lodge they engaged in games of football and dominoes with the resident boys.
The SVGS Young Leaders wish to thank all contributors and supporters of the bake sale and everyone who helped to make the day of activities a success.