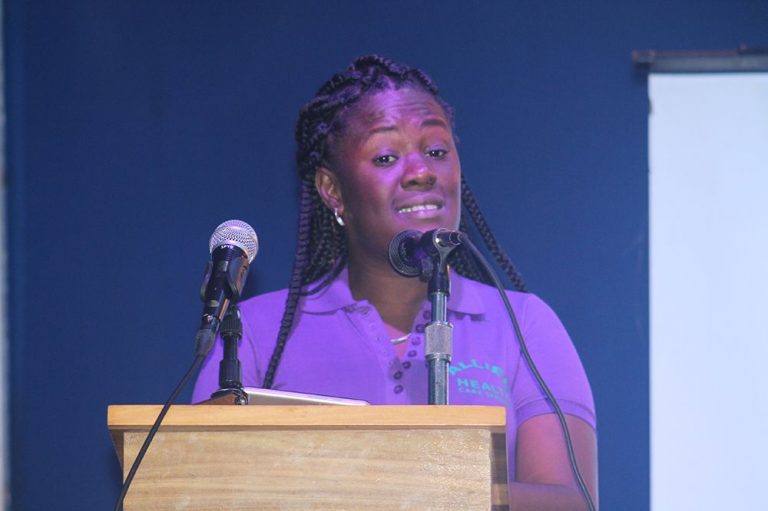 Newly launched home care service geared towards professional care
A home care company geared at providing professional and affordable services was formally launched here last week, after being in operation since October 11, 2016.
Chief Executive Officer Cheri Seargeant told the media at the Peace Memorial Hall last Friday that she formulated the idea for Allied Health Care after observing workers who were not properly trained in the delivery of care for the chronic acute conditions of the elderly.
Additionally, Seargeant said that while working as a student nurse at different district clinics around the country, she observed the difficulty elderly persons experienced getting to and from the clinic.
"I thought, what if I could bring a service where persons wouldn't have to leave their home to get care? What if these persons could remain in their home and still receive quality health care," she explained.
Seargeant, now a registered nurse, said her company offers a variety of services, including: live-in home care – both short and long-term; rapid response; special care and care of the disabled; domestic services; medication reminder; monthly, weekly and daily vital, blood and pressure checks and wound care.
"Our errand and concierge service includes quick pick-up and drop-off from doctors, clinics and other appointments and we also do grocery delivery."
The company is staffed by three elder caregivers, two staff nurses, one domestic worker and one driver.
"We know that each individual is unique and our care plans are designed to meet these individual requirements. The goal of Allied Health Care is to provide quality, convenient and professional health care to all our clients," she stated.
Seargeant stated that the prices are very reasonable, affordable and designed especially for her clients' needs.
"…So, if you are a client who is on palliative care and you need domestic service, along with domestic palliative care, we will design a package especially for you," she explained.
In addition to providing home care services, Seargeant said her company also conducts training classes for care of the elderly and disabled in conjunction with Ministry of Education in the Adult and Continued Studies Division.
She stated that so far, 25 persons have graduated from their training courses.
Allied Health Care currently has eight patients. However, they intend to grow "quite intensively" over the next three years. This growth includes the provision of ambulance services by the end of 2018.
Allied Health Care is located at Stoney Ground, Kingstown and can be reached at 784-531-0615 or 784-534-9334. They may also be emailed at [email protected]