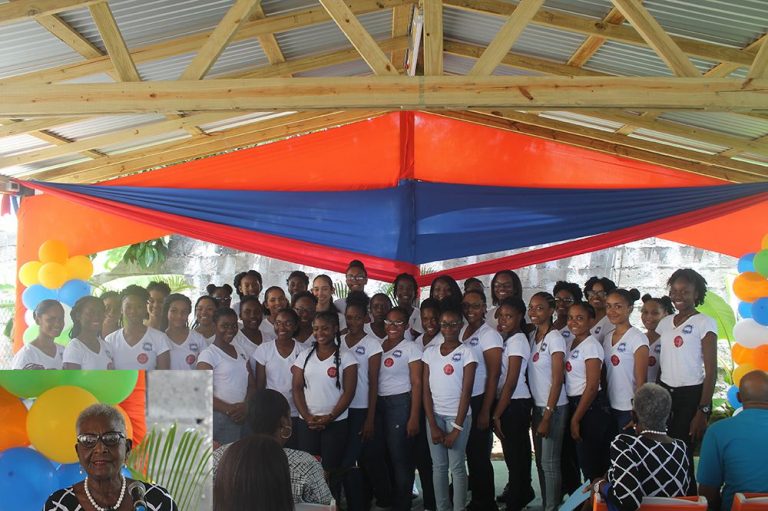 Winning should not be main focus of Young Leaders' programme – Guest speaker
Students in the 2017 St Vincent Girls' High School (GHS) Young Leaders programme should not only enter the programme to win, but because they want to improve the lives of others and build their own leadership capacity.
This sentiment was expressed by Dr Kathleen Israel, guest speaker at the launch of the GHS young leaders' programme, which was held at the Catholic Church's Fishes and Loaves Soup Kitchen at Rose Place on Tuesday.
"Now, please don't misunderstand me. Winning is a wonderful thing… but it should not be the main focus of what you are doing or you will lose the joy, the essence of the experience," Israel added.
She reminded the girls that their ultimate goal is to do their best, think through and implement their projects, fully engage in programme activities and give it their best shot.
"In so doing, you will be giving back to your communities and your country by enriching the lives of the less fortunate, the poor, the underprivileged, the vulnerable and the dispossessed."
Israel described the Young Leaders programme as 'pure genius.'
"The genius, to my mind, lies in the capacity of the programme to develop, shape and grow young people in the right direction at the time in their lives when they could take best advantage of the inherent values of the programme and with these said values stand a good chance of establishing deep roots in their consciousness," she stated.
She noted that the GHS sub-theme – "Volunteering Today… Impacting in Every Way", highlights the essence of their vision and underscores how their impact would impact the lives of others.
Israel told the girls that volunteering would have positive benefits, not just for them, but for the persons or communities served by improving the quality of life or both in different ways, of course.
She stated that there would be challenges and setbacks while they are implementing the project, but nothing worthwhile comes easily and challenges can be overcome by working together.
Ezekiel Richards, marketing and development manager at the Teachers Cooperative Credit Union (TCCU), also spoke at Tuesday's launch.