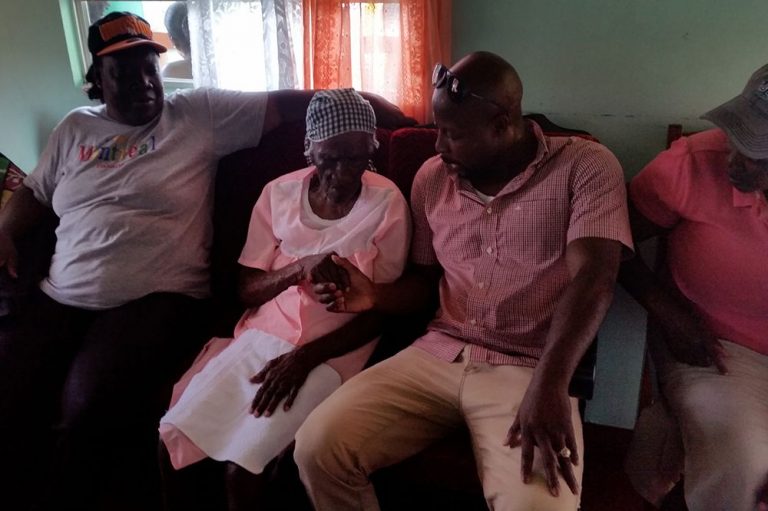 Rose Hall icon celebrates 105th birthday with family, friends
Rose Hall resident Mahalia Franklyn celebrated her 105th birthday on Monday. The centenarian, who was born on 27 March 1912, shared her special day with family and friends, including students from the Rose Hall Pre-school.
During a brief ceremony at her home on Monday, the centenarian expressed her gratitude to those who visited and played a part in marking her 105th birthday.
"I am thankful to be alive and I want to give God all the glory and praise, and I want to thank those who came to visit me," Mahalia said.
Reflecting on her youth, she spoke of her many trips across La Soufrière mountain from Richmond to Georgetown, selling fish to persons on the Windward side of the island.
"Every day I went up to La Soufrière and down to Georgetown and I worked lands in Rose Hall as well," Mahalia recounted.
Known to many as a kind and generous person, Mahalia spent most of her life in the Rose Hall community. The mother of 12 singled out the support of her son, Elliot Franklyn, who resides with her at the family home in Rose Hall.
"My son has been with me all his life. He had many opportunities, but never left home and to this day he takes care of me. I want to thank him and the others who are helping me," Mahalia said.
Among those who visited Mahalia on Monday was government senator Carlos James, who hailed the centenarian as a local icon.
"I am honoured to share this special occasion with Mahalia, it is not every day someone attains the age of 105 and by doing just that she is an icon. She is someone whom we should all try to emulate – her genuine love and kindness towards people…she has worked had most of her life and deserves all the appreciation now while she is alive," James said.