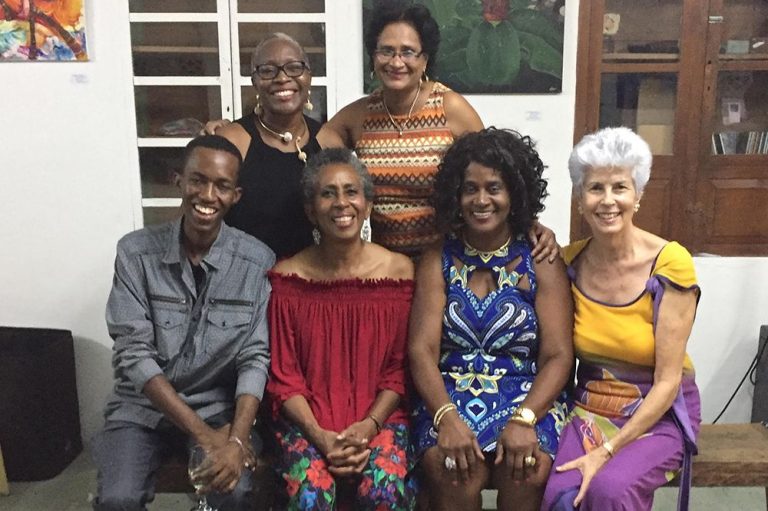 Organizers hail Youlou Art Centre launch a success
by Camille Saunders Musser
The Youlou Art Centre is now officially launched. There were many friends and well-wishers attending the launch. It was also the third annual Art Show and Sale organized by Youlou Arts Foundation. It was hailed by all attendees as a success. There was interesting and inspiring art to be seen and a nice buzz in the air. The event was celebratory, happy and colourful.
Producing such an event is not an easy task. All credit and thanks must be given to the many people involved, who worked very hard to make this dream of having a space dedicated to the visual arts a reality.
It is only fair that the public is informed as to who are the people who helped to make this dream come true. Not many people know that for many years several people have been heavily invested in fund-raising and steering Youlou Arts Foundation towards this goal of having an art centre. They are known as the Planning Committee. For many years they have been working very hard towards this goal. The Planning Committee has organized children's art fairs, concerts, and sold countless tickets towards events organized by Youlou Arts Foundation. They have been focused and persistent in dedicating time and energy towards achieving this goal. The members are: Lenore Layne, Camille Crichton, Ruth Reddock Shortte, Sean Roache, Kenlyn Alves, Eleanor Astaphan, Desree Karen Providence and Camille Saunders Musser.
A huge thank you must be given to Basil Charles, who has given Youlou Arts Foundation the opportunity to rent the ground floor of his property at Villa Beach.
Special thanks to the following people and businesses who have helped us over the years in making this event a success. They are: Greaves Supermarket, Robert Howard family, Mustique Company Ltd, Gonsalves Liquors, Ivo Carr, Jonathan Palmer of Mustique Co, Hollis Searles of Seales Agro Products, Clara Providence, Paradise Inn, French Verandah, and Mike Persaud of East Caribbean Metals Industries Ltd.
Youlou Arts Foundation thanks the public for their support and hopes they will continue to take part in the many activities produced by the centre.