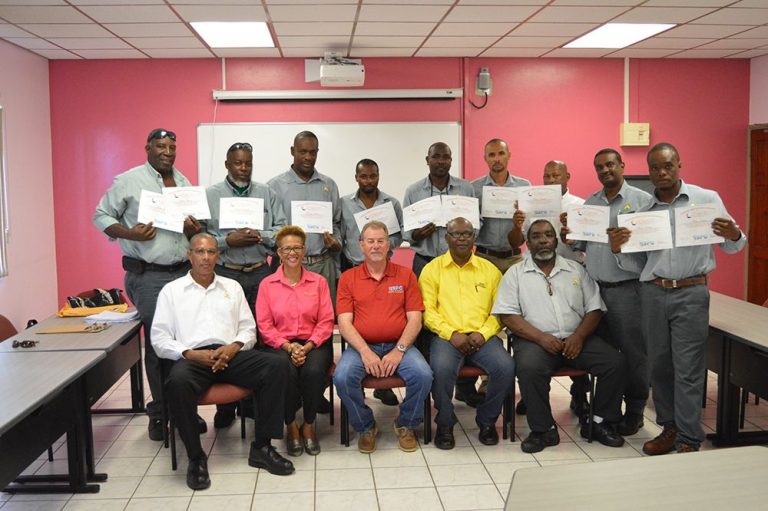 Nine VINLEC Linemen receive CARILEC Lineman Certification
Nine Linemen assigned to the Transmission and Distribution Department of St Vincent Electricity Services Limited (VINLEC) have received CARILEC Lineman Certification, accredited by the Institute for Safety in Powerline Construction (ISPC).
The Caribbean Electric Utility Service Corporation (CARILEC) Lineman Certification Programme was designed by ISPC and tailored to suit the needs of line workers who work within member countries of the umbrella body. The ISPC, based in Los Angeles, USA, offers expert training in all areas of safety in the in the electric utility industry.
Three of the linemen successfully completed the Examinations at Levels 1&2. They are Junior Browne, Mowai Latham and Dillon Scotland. After successfully completing the Level 1 exams in June 2016, six linemen were examined at Level 2. They are Rodney Duncan, Brian Deane, Dwight Roberts, Junior Campbell, Lonnie Dabrell and Les Malcolm.
Over the past months, the local facilitators – Mitra Malcolm, Stanley Harris and Alston Scott of VINLEC – hosted classroom and field sessions, which addressed a number of critical areas in line work. During the examination, the linemen had oral exam sessions and they were also assessed in the areas of bucket truck rescue and pole top rescue, single-phase transformer installation, earthing set installation, among others.
The assessment was carried out by Tony Boyd of ISPC, Lebert Frankson of the Jamaica Public Service Company and Laurena Primus, training manager at CARILEC. The Lineman Certification examination took place at VINLEC's Transmission and Distribution (T&D) training ground at Diamond, on Monday, 27 and Tuesday, 28 March.