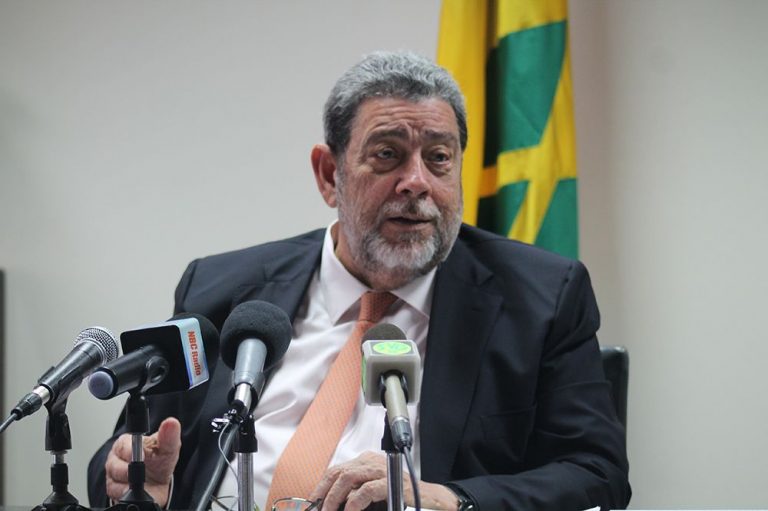 No reason for Government's delay in rebutting false report on TSA inspection – PM
There was absolutely no reason for there to have been a five-hour, fifty-minute delay before the Government rebutted false reports about the recent Transport Security Administration (TSA) inspection at the Argyle International Airport (AIA).
This is the view of Prime Minister Dr Ralph Gonsalves, which he expressed during a press conference on Monday at Cabinet Room.
The Prime Minister was referring to a claim made on March 17 by radio host Dwight 'Bing' Joseph on Boom 106.9 FM that the TSA had failed the AIA during their inspection of the airport from March 7 to 9, 2017.
"We have to make sure that we are on top of the game; we are human beings and we will falter. But, there is absolutely no reason why it should take five hours and fifty minutes for this Government to rebut fake news," Gonsalves said.
He noted that he first heard about the false report from his wife, Eloise Gonsalves, while on a recent visit to Qatar.
He noted that after hearing the news around one o'clock local time, 8 p.m. Qatar time, he immediately contacted the director of Airports (DOA) Corsel Robertson and chief executive officer (CEO) of the AIA Hadley Bourne.
Gonsalves stated that he was informed by the airport's CEO that he was unaware of the reports.
"But, he has people who are responsible for media and public relations out there. They should have known about that, told him and given their response immediately," the Prime Minister said.
Gonsalves stated that he next called his press secretary Hans King to tell him that the director of Airports should have been informed about the 'fake news'. He, however, noted that King, like Bourne, was unaware of the report.
"…There has to be a machinery to respond to these things and we do have the machinery; it just didn't work. So, I had to call from Qatar and the first response of the Government to the fake news was at 10 minutes to two, after Bing has spoken about this at eight o'clock. So there was a delay of nearly six hours.
"That is unacceptable, absolutely unacceptable!"
He stated that the media and public relations offices at the AIA and even at the office of the Prime Minister need to have persons monitoring radio stations.
The Prime Minister, however, noted that while he is aware that all the stations cannot be monitored, there has to be someone monitoring.
On March 20, 2017, three days after the false report was made, the director of Airports and the CEO of the AIA issued a press release dismissing as "false and totally irresponsible" information being circulated in the local media that the Transport Security Administration (TSA) of the United States had failed SVG in its recent inspection. (CM)