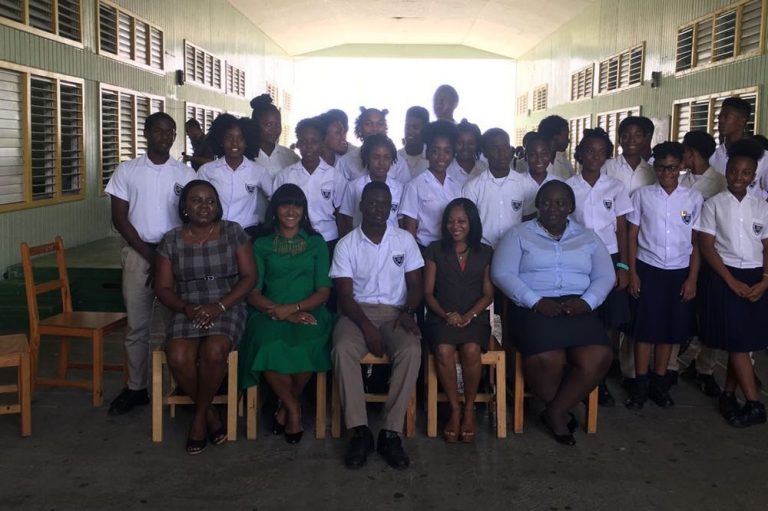 Featured Speaker encourages students to get involved in volunteerism
The Young Leaders of the Intermediate High School (IHS) RBC Young Leaders have been encouraged to help others, for when they do this, they are actually helping themselves.
The word of advice to the IHS RBC Young Leaders group came on Monday at the school, from teacher Tamira Browne, a young Vincentian who was this year a finalist in the Commonwealth Young Person of the Year awards.
Browne, who delivered the feature address at the launch of the school's 2017 Young Leaders project, told students that when they become involved in volunteerism, they are actually working to make their school a better school, their communities better places to live and the country on a whole, a better island.
The group is this year taking part in the RBC Young Leaders programme, which is being held under the theme, "I am WE; Volunteering for impact". They have adopted the sub-theme, "Volunteer today; we rise by lifting others."
Speaking to the gathering of students on Monday, Browne who is a member of the Girl Guide Association, explained that volunteering is when someone spends time, unpaid, without getting financial or other rewards, doing something that aims to benefit the environment or someone to whom they are not closely related.
"I want you to volunteer. I want you all to strive to become better persons. I want you all to rise by lifting others," said Browne.
She encouraged students to make a decision to get involved in organizations that promote volunteering.
"You see, life is not about how many likes or followers you can get on Facebook, Instagram or Snap chat; life is about how you become better persons and how you live with people and leave a lasting impact. Life is more than listening to music that helps or inspires you to help others, but it is about helping to inspire others. Life is not about buying the most expensive clothes, shoes, make-up or gadgets – the material things, but it is about learning to be content with what you have and what you can afford. It is about being able to share what God has blessed you with among the less fortunate. My advice to you is to volunteer today and rise by lifting others", stressed Browne.
She encouraged the school body to support the group of 26 Young Leaders, which is being led by president Jeren Joseph.
Coordinating teacher Kimberley Young-Compton said that the group is elated to be taking part in this year's competition.
"This year, our batch of very enthusiastic Young Leaders are more than ready to volunteer their services. They were selected based on their willingness and readiness to perform duties at the school level. In fact, quite a few of them are part of the National Girl Guides Association, while others usually volunteer their time and effort whenever the occasion arises," said Young-Compton.
The young leaders programme this year will involve visits to a number of institutions around the island that deal with the less fortunate.
The launch event also heard from principal Elspeth Latchman and president Jeren Joseph.