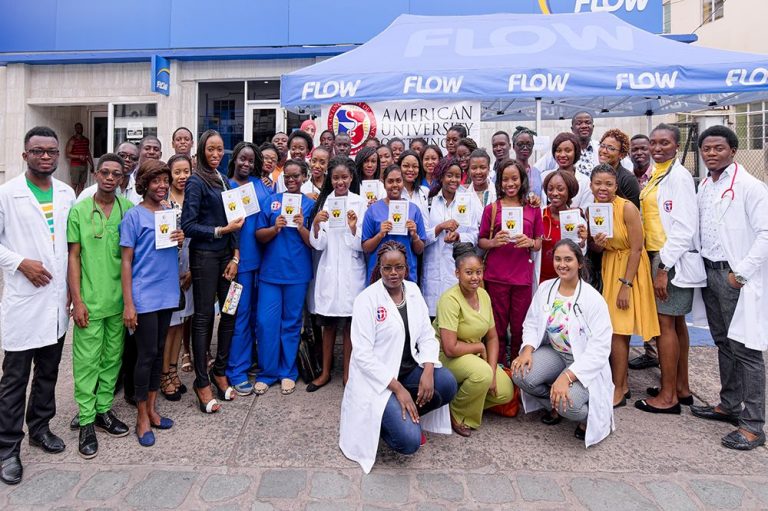 AUS School of Medicine hosts Health Fair
In keeping with one of its aims to give voluntary services to the people of St. Vincent and the Grenadines (SVG), the American University of St Vincent School of Medicine (AUS) conducted a health fair on March 25.
This awareness campaign and health care drive held in front of the Flow Promenade in Kingstown, sought to interact with and give back to the people living in SVG, as well as to increase their knowledge of health care issues, like diabetes, hypertension and obesity.
Health checks were primarily conducted by the students of the institution. Advice was given on the aforementioned health issues and emphasis was placed on adopting preventive measures. The need for persons to regularly engage in physical activity, drink water, and eat a balanced diet was stressed.
Persons with a history of diabetes and hypertension were advised to be compliant with their medications; monitor their blood pressure and blood sugar levels; and to visit their primary care physician on a regular basis. Although these chronic conditions are lifelong, they can be managed so as to improve the quality of life and health care outcomes of patients. Individuals were eager to get their blood pressure and blood glucose levels checked. However, there was even more enthusiasm to determine nutritional status, which was assessed using the body mass index (BMI). The BMI is an assessment tool that uses the individual's weight and height to determine if he/she has a normal weight, is underweight, overweight or even obese.
Pamphlets on the Empowerment of Women and Girls were distributed and persons were educated on the need for women and girls, not just in SVG, but throughout the world, to be empowered.
With approximately 170 persons being seen for health checks by medical students of AUS, the health fair was deemed a success. Some persons who were present at the event expressed gratitude for the opportunity given to have the aforementioned tests done.
The American University of St Vincent School of Medicine is a registered medical school in St Vincent and the Grenadines. This institution is also recognized by the World Health Organization (WHO).