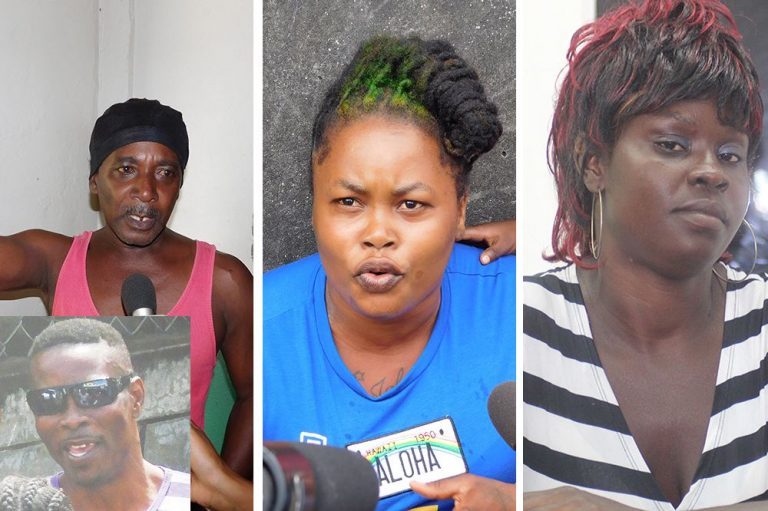 Vermont man shot dead after beating murder charge
by Lyf Compton
A huge number of residents in the farming village of Vermont are glad that one of their own, 52-year-old Malcolm Pollin, is no longer alive; a strange thing to hear, but sentiments shared by many persons.
Last Sunday, March 12, Pollin became the third person to be murdered here in 2017. The Vermont man, who can be considered a career criminal, was shot and killed in his hometown around 9.30 p.m., while making his way home.
Soon after being shot, a photo of Pollin, lying dead and bloody in the street, began making the rounds on social media. The posting of the photo on Facebook drew hostile comments, most of which applauded the person or persons who gunned down the former convict.
Pollin, who once served a 15-year sentence at Her Majesty's Prison (HMP), was released some time in 2015, but it wasn't long before he found himself on the wrong side of the law again.
On Monday, July 25, 2016, Pollin, Bridon "Kang" Joseph, Courtney Joseph, Shemai Joseph and Mark Weekes were charged with the July 20, 2016 gunshot and chopping murder of Kamau Jones. Jones, 32, originally from the Grenadine isle of Union Island, was killed while staying at the home of a friend in Vermont.
On August 2, another man, Andres Cuffy, was charged for the same murder. Days later on August 11, the list would grow to seven, as Lennox Andrews was also charged for Jones' murder.
After the seven were remanded to HMP, SEARCHLIGHT visited the Vermont community where a number of residents in the South Leeward district said that they would sleep a little better at nights and feel safer in the day, now that the seven were behind bars awaiting trial.
Bridon, one of the murder accused, has been charged with murder before. On June 15, 2012, Dexter 'Collie' Joseph was shot and killed in Vermont. Bridon, Dexter's nephew, was later charged with the murder, but the case was dismissed, due to lack of evidence. Back in April, 2015, Bridon turned up at the SEARCHLIGHT office with his friend Calbert Andrews. The duo claimed that a group of persons had thrown rum on Calbert and set him on fire and Bridon stressed that he was extremely upset about the incident, a claim someone from the village termed ironic, as the men were described as troublemakers and lawless individuals.
Pollin, before his death, was picked up by police more than once and questioned in relation to shootings and other incidents in the South Leeward and Central Leeward areas. Sheldon 'Billy' Pollin, Malcolm's brother, was shot and killed in May 2016 in Diamond.
On February 27, 2017, Pollin and Mark Weekes, two out of the group of seven, were freed of Jones' murder when they appeared at the Serious Offences Court.
During the preliminary investigation into the murder, Chief Magistrate Rechanne Browne-Matthias told Weekes and Pollin that they were free to go after the prosecution said that they did not have a case against them.
The men's release sent the Vermont community back into a state of uneasiness, as one of the main witnesses in the case was an elderly woman, Belle Gordon, who lived in the community.
When SEARCHLIGHT visited Vermont last Monday, persons were eager to talk about Pollin, also known as "Markie" and "Daddy P".
One such person was 'Jose' Small, a man currently in a relationship with a woman who has borne children for Pollin.
"Daddy P shoulda get 3,000 shots; how much he get, I duh know, but he should have got more. He disgrace the village… he did wah beat everybody. He just escape murder charge and wah beat everybody…all bady he wah beat up. He evil and he stop too long to dead. He shoulda dead 100 times," said the vocal Small.
Small said that he knew Pollin all his life and Pollin once worked with him as a cement mixer. He said that he had to lay off Pollin because the now deceased man was once shot by police and as a result had a bum leg that prevented him from bending properly.
Small said that one Friday he was hanging out in Vermont and Pollin slapped him about eight times behind his head and demanded money, hence the animosity.
Pollin's firstborn daughter, Oganda Joseph, who had initially refused to speak to the media, decided to comment after hearing her stepfather speak.
"He was a bad man," she said of her father, "I cannot say he was all good; there is no all good in no man on earth," said Oganda.
Another of Pollin's daughters, Samara Joseph, said that she was speechless when she heard her father had died.
"Me sorry he dead; me can't do nothing, but when I heard, I shake, I did not believe," she said on Monday.
Samara said that when she saw her father on the ground, she could not face the scene and it touched her, despite the fact that a lot of persons were happy he was dead.
"….people might be glad, because they say he get away with a murder, so I believe in my heart plenty people happy, but everybody have their own opinion. I did not really have that relationship with him, but it touch me," said Samara.
Police are carrying out investigations into Pollin's murder.