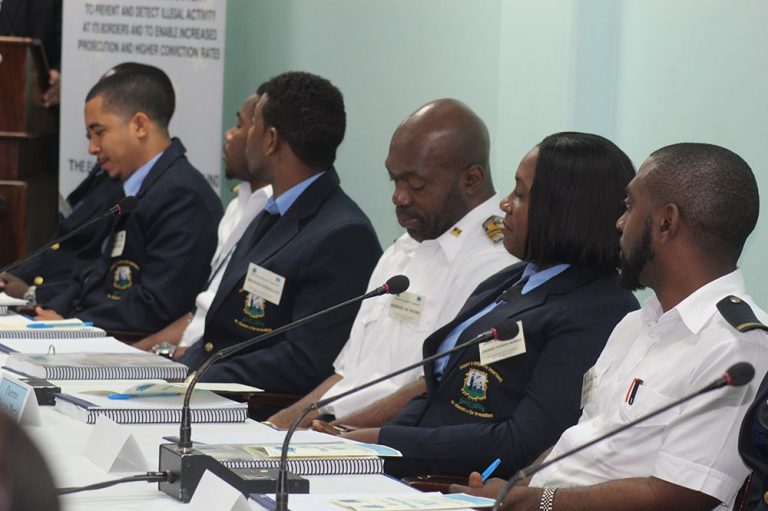 SVG located in a dangerous neighbourhood – PM Gonsalves
St Vincent and the Grenadines (SVG) is located in a dangerous neighbourhood due to its proximity to countries like Trinidad and Tobago, Venezuela and Colombia.
And even the United States of America (USA) contributes to the danger in this neighbourhood.
Prime Minister Dr Ralph Gonsalves, speaking on Monday, March 3, during the opening ceremony of a five-day joint border security workshop, which was held at the Ministry of Foreign Affairs conference room, made this point.
The PM said that as a small developing nation, we are very serious with our security, but there are many challenges that face our archipelago, which consists of 32 islands, 150 square miles of landscape and 11,000 square nautical miles of seascape.
"We live in a dangerous neighbourhood… and I'm not making any anti-Trinidad points when I say Trinidad; they may say we are too, to them, because we have our own homegrown crime and criminals, but in 62 days in Trinidad there were 92 murders, some of them gruesome and so far this year we have had two," noted Dr Gonsalves.
Over the past few months a number of Trinidad nationals have been caught and deported from St Vincent and the Grenadines and there is intelligence to suggest that these men were hired to come to SVG to carry out acts of violence against gang members and other persons.
The Prime Minister said that several South American countries, like Venezuela and Colombia, also pose a significant threat to us and while persons seem to be focused mainly on refugee stories from Europe, Colombia has the greatest displacement of persons, nearly seven million, as a consequence of guerrilla war in that country.
Gonsalves also explained why he thinks that the USA is an area of danger for SVG.
He said that this country does not produce guns and bullets, but the USA does and sometimes this ammunition and weapons end up here.
"…about three months ago, an armory in Atlanta was broken into, where dozens of the most advance assault weapons were stolen and one of them reached the BVI and was coming here when it was intercepted, with 20 bullets. The most advanced weapons; now what you going do with that in SVG?" asked the PM.
Dr Gonsalves is also the head of the national security apparatus and he stressed that there are persons who have made up their minds that they are going to make their living off trafficking in drugs, guns, terrorist material and persons, so we have to have things in place to curb these activities.
He said that a famous writer once wrote that crime is normal and the absence of crime abnormal, but while crime is normal, we must keep it tolerable to have a civilized country.
The Prime Minister stressed that it is important to keep the breach of our borders to an absolute minimum and for that, we need people and we need equipment and other material resources.
Since the Prime Minister's address, SVG recorded its third murder for the year. Malcolm Pollin was shot dead near his home on Sunday, March 12.