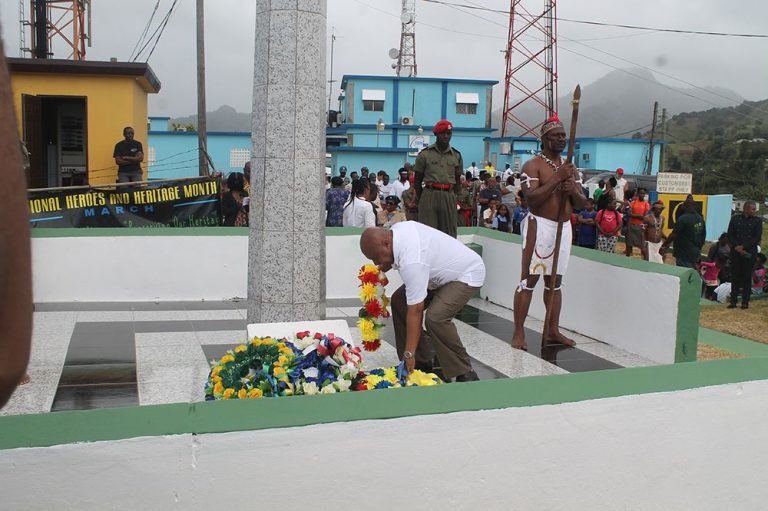 SVG developing three major culture, tourism sites – McKie
As part of telling the story of the Vincentian history, the process of developing three major culture and tourism sites in St Vincent and the Grenadines has begun.
So said Minister of Tourism, Sport and Culture Cecil 'Ces' McKie, while addressing the annual wreath laying ceremony to commemorate national hero the Right Excellent Paramount Chief Joseph Chatoyer at Dorsetshire Hill on Tuesday.
"As part of this development and telling of the story, we are developing three major tourism culture sites in St Vincent and the Grenadines," McKie said.
He noted that the process commenced in January 2016, with the construction of the Carib Cayo Village at the site of the Argyle International Airport.
"Already we have constructed five huts that are replicas, as close as possible, to how they were built long ago, using local material and also using manpower, taking away what they would have used now…," the Minister noted.
Additionally, McKie noted that they are also developing a heritage village on the other side of the Argyle International Airport. He also disclosed that they have advanced discussions for developing a cultural village or national park in Georgetown.
"All three sites would allow us to advance in a significant way what we are doing here and throughout the country as we continue to say thank you Paramount Chief Chatoyer… and to say to the people of St Vincent and the Grenadines we have a rich story which we can continue to tell and which we can use to invite the world to our shores," McKie said.