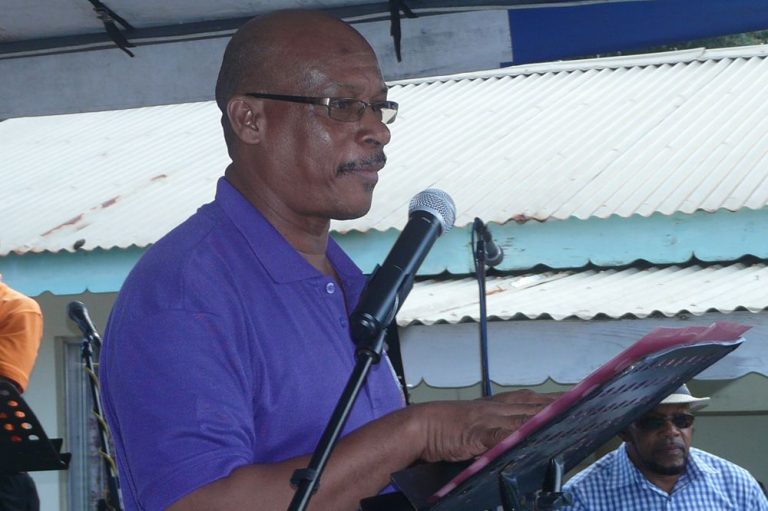 COP highlights significance of Pan Against Crime Programme
As the Pan Against Crime Programme marked its ninth anniversary in St Vincent and the Grenadines (SVG), Commissioner of Police Renold Hadaway said the programme has impacted the lives of many children and teenagers throughout the state and has revived people's interest in the steel pan, once a diminishing art form.
Hadaway, addressing a gathering who attended the Pan Against Crime anniversary concert at Victoria Village on Sunday, February 26, said the steel pan, one of our cultural art forms, is used as a tool in the fight against crime and violence.
"This initiative, the Pan-Against Crime Programme, has impacted the lives of many children and teenagers throughout the state since its inception. They utilized their spare time learning to play the pan. It is the consensus of the people that this skill that they have harnessed has been a contributing factor to outstanding performances in Caribbean Primary Exit Assessment (CAPE) and other Caribbean Examinations Council (CXC) Examinations," said Commissioner Hadaway.
The Commissioner of Police said the Pan-Against Crime initiative, the brain child of Prime Minister Dr Ralph Gonsalves, was launched in 2008, as the Government looked at ways to combat the 2007 upsurge in violence and crime.
The initiative was launched on February 20, 2008, after the homicide rate for 2007 had reached an unprecedented high, a total of 38. Prime Minister Gonsalves, who holds the portfolio of Minister of National Security, and a team led by Godfred Pompey, Permanent Secretary in the Ministry of National Security, created a number of security initiatives, one being the 'Pan Against Crime Programme', which targets youths throughout the state.
This initiative's overall strategy includes: connecting with the communities through culture, music, sports, law enforcement and education. Throughout the years, several pan sides were launched, including Winfresh South East Steel Orchestra of Stubbs; North Stars, which started in Rose Hall, but has now moved to Troumaca; New Dimensions in Lowmans Windward, soon to be housed at the New Grounds Primary School; Mustique Charitable Trust Georgetown All Stars; Genesis of Largo Heights; Union Island; Canouan; Marriaqua Government School and Sandy Bay.
Meanwhile, Dr George Frederick, deputy chair, National Commission on Crime Prevention, encouraged the persons in attendance to speak out and let people know when they are on the wrong path. Dr Frederick warned that criminals who deprive people of their lives will face a judgment that is coming.
Area representative for South Windward Frederick Stephenson appealed for domestic violence to stop.
"Too many men believe they own the women of St Vincent and the Grenadines and beat them up. This must stop," said Stephenson, who reminded the gathering that there is a domestic violence bill in place that has stiff penalties for people who break the law.
The curtains came down with a scintillating performance from Winfresh South East Steel Orchestra.