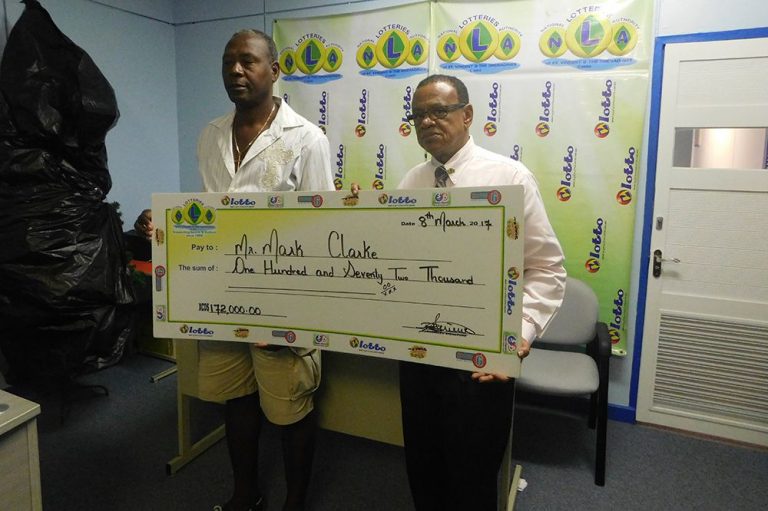 Arnos Vale man hits lottery jackpot twice within 24 years
For the second time in 24 years, Arnos Vale resident Mark Clarke has won the National Lotteries Authority (NLA) Lotto jackpot.
And, this time, he has almost tripled his winnings, walking away with a jackpot of $172,000 for the March 3 draw.
In 1993, when he first won, Clarke walked away with $44,000.
Clarke told the media on Wednesday, at a handing over ceremony at the NLA headquarters, that he is happy to be a two-time winner of the Lotto jackpot.
"I happy to win the lottery. I have a loan to pay and I want to pay off the loan."
Also speaking at the handing over ceremony, manager of the NLA McGregor Sealey said it was a pleasure to present Clarke with his winnings and commended him for continuing with the game.
"I want to thank him for his persistence and for sticking with the National Lotteries, because it shows … that lightning could strike twice in the same place," Sealey said.
He noted that when taxes were deducted from lottery winnings, the NLA experienced a slump in ticket sales and after the removal of the tax, they are now seeing an increase in ticket sales.
"As I speak to you now we are $2 million ahead on last year's sales for around the same period. So, our players are coming back…."
Sealey encouraged persons to continue playing NLA games, since when they play, it contributes to nation building.(CM)